Read Across Lawrence, in its sixth year, encourages the entire community to read and discuss the same book during February and March. The 2005 selection is "Blue Horses Rush In," a collection of poetry and short stories by former Kansas University English professor Luci Tapahonso. Free copies of the book meant to be read and passed on are circulating around town. A select number of copies are also available for limited-time checkout at the Lawrence Public Library, 707 Vt.
All events are at the library unless otherwise indicated:
Book discussion: "Relationships and Community in Navajo Culture," led by Bud Hirsch, KU associate professor of English, 2:30 p.m. today.
Book discussion: "Bridging Traditional and Contemporary Native American Culture," led by Dan Wildcat, chairman of American Indian Studies Program at Haskell Indian Nations University, 7 p.m. Wednesday, Regents Room, Navarre Hall, Haskell.
Book discussion: "Native American Women's Voices," led by Trish Reeves, instructor of English and creative writing at Haskell, 7 p.m. Feb. 28.
Book discussion: "The Way of Beauty in 'Blue Horses Rush In,'" led by Michael Johnson, KU English professor, 7 p.m. March 8.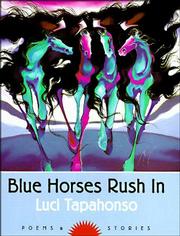 l Reading and book signing by Luci Tapahonso, 7 p.m. March 14. The Raven Bookstore will make copies available for purchase at the event.
"Storytelling through the Generations," with Tapahonso, her daughter Lori, and Lori's daughters, Chamisa and Briana Edmo, 7 p.m. March 16.
Haskell students poetry reading, 7 p.m. March 17, Tommaney Library, Haskell.
Youth poster contest, for youths in kindergarten through high school, to publicize Bert Nash Community Mental Health Center's Summit III, "Building a Better Community, Bridging Cultures: The Native American Experience." Artwork should be inspired by the rich imagery, color and feel of the stories and poems in the book.
Winners will be chosen in grade school, junior high and high school divisions. Information packets containing book excerpts and contest guidelines are available at the Lawrence Public Library or school librarians. Entries should be turned in to the Lawrence Arts Center, 940 N.H., by 5:30 p.m. March 18.
Copyright 2018 The Lawrence Journal-World. All rights reserved. This material may not be published, broadcast, rewritten or redistributed. We strive to uphold our values for every story published.