Lenexa — To play the board game called Beat the Experts, now selling in area toy stores, you match wits with 40 really smart people.
Brainiacs like Bill Nye the Science Guy, Sir Isaac Newton, George Washington Carver, Buzz Aldrin, Confucius.
And 9-year-old Elise Veach.
Of Lenexa.
Elise's game fame comes courtesy of University Games, a San Francisco company that named her the winner of its National Young Game Inventors Contest three years ago, when Elise was just 6.
She nearly flew through the roof when the telephone call came, telling her that she'd won the contest and that the board game she invented, Mouse Round Up, would become a real game. And she'd won a $10,000 savings bond.
"I called everybody we knew!" said Elise shaking her shoulder-length brown curls.
Elise is a smart one, all right. She's a deep thinker, a daydreamer who sometimes gets lost in thought while she's helping Mom fold clothes. She reads, reads, reads every day, first thing in the morning, even before breakfast.
Her creativity, sense of humor and very presence so impressed the folks at University Games that when they began work on Beat the Experts, they wanted Elise to be one of their experts.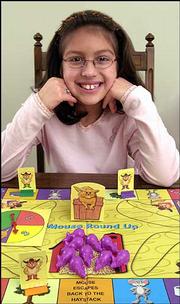 The object of Beat the Experts is to simply know more than the know-it-alls. The three game cards that feature Elise tag her as a "smart aleck."
"The game was not about celebrities, it was about experts, and we wanted to have as big a variety of experts from different fields as possible," said Bob Moog, chairman of University Games.
The game cards even reveal trivia about each expert -- Elise's favorite color is blue, her middle name is Renee and she was born at the exact minute as her little brother, Ethan. He's 3.
(But oops. The cards claim that Elise was born in De Soto. She was actually born in Liberty, Mo., but she lived in De Soto when the game was produced.)
Elise inherited her father's mind for details, said her mom, Lori. Elise's dad, Vince, is a computer programmer for Burns & McDonnell. "They share the same brain," said Lori Veach.
Mom nurtures it. Lori, a former fourth-grade teacher at Tri-City Christian in Independence, home-schools her daughter in a cheerful classroom in the basement of their Lenexa home. Elise is in fourth grade but her reading comprehension, said her mother, "is like post-high school."
The family learned about the contest by reading a restaurant placemat at Disney World three years ago. They followed the contest's "how to make a board game" suggestions.
To start: Choose a theme about something you like. For Elise this meant pizza, bikes or cats. Pizzas don't do much, and bikes only go so far. So she went with cats and mice. Specifically, cowboy cats trying to round up rascally rodents.
When months passed and family members didn't hear anything, they assumed Elise hadn't won.
But then the call came.
"She just has a great sense of humor," said Moog. "We have had winners from the East Coast and the South, and we really wanted to get a good, solid girl from the Midwest, and Elise was it.
"A child's imagination just works in a different way than an adult's. In Elise's case, we just laughed and laughed at the thought of a cat who was a cowboy lassoing mice. Those were just two different worlds that we would not put together.
Copyright 2018 The Associated Press. All rights reserved. This material may not be published, broadcast, rewritten or redistributed. We strive to uphold our values for every story published.