Bryant Denning, 15, received Boy Scouts' highest award of Eagle Scout during a ceremony Sept. 26 at Corpus Christi Catholic Church. He is a member of Troop 55, chartered to West Side Presbyterian Church.
Denning started his scouting career in Cub Scout Pack 3055, chartered to Sunset School. He completed the Cub and Webelo programs and received his Arrow of Light in 2000.
He joined Troop 55 in 2000. His leadership positions have included patrol leader, librarian, den chief and assistant senior patrol leader. He is a brotherhood member in the Order of the Arrow honor camping program and a warrior in the Tribe of Mic-O-Say at Bartle Scout Reservation in Osceola, Mo. He earned 27 merit badges and the Ad Altari Dei religious award for Catholic Scouting Youth.
Denning has attended Seabase, a summer high adventure camping program in Florida.
His Eagle Scout project was to design, organize and plant an elevated landscape plot around the entrance sign to Knights of Columbus Hall, 2206 E. 23rd St.
Denning is a sophomore at Lawrence High School, where he is a member of the junior varsity soccer team.
He is the son of Drs. Dale and Patricia Denning.
¢
Bear Den 2, of Cub Scout Pack 3370, chartered to the Deerfield School PTA, visited Kansas University's Spencer Museum of Art Jan. 29. The Scouts learned how photographs can tell stories without words and each boy created a mixed-media piece of artwork. Each Bear Scout also received an authentic Chinese coin as a souvenir of their visit from the museum's gift shop. The Scouts who participated were Alex Houston, Hunter Dedloff, Lucas Werner, Michael Edman, Nick Pippert and Stephen Fulton. The visit was coordinated by Lisa Werner, den leader.
¢
Cub Scout Pack 3059, chartered to the First Presbyterian Church of Lawrence, had its annual Pinewood Derby Jan. 22.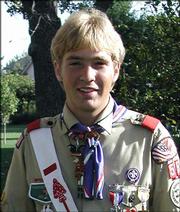 The following Cubs received special awards: Cooper Enyart, People's Choice; Barkley Edison, Best of Show; Caleb Downs, Sportsmanship; and Ryan Walter, 75th Anniversary of Cub Scouting Award.
Those who placed in the pack competition were: Caelan Golledge, first; Philip Gabler, second; Brandon Botkin, third; and Dillon Schroeder, fourth.
Also participating were Robert Newman, Randy Walter, Matthew Stacey, Jacob Parnell, Andy Freeman, Nathan Kappelman, Tristan Decker, Elliot Klopp, Joshua Seybert, Benjamin Lawson, James Messer, Kyler Henricks, Nathan Koehn, Anthony Hummel, Bryceton Griffith, Corbin Robinson, Darren Rawlings, Jake Lester, Isaiah Martin, Logan Littrell, Chris Sims, David Balmilero, Patrick Keizer, Dew Sheppard, Donovan Barr and James Harader-Ellet. Adult leaders George Vogel, Millie Walter, Paul Gabler and Chris Griffith directed the Webelos in making a wooden display for each participant's race car.
Copyright 2018 The Lawrence Journal-World. All rights reserved. This material may not be published, broadcast, rewritten or redistributed. We strive to uphold our values for every story published.