Kansas City, Mo. — President Bush's proposed budget will hammer everyone from low-income homeowners to the homeless, city leaders from Lawrence and throughout the Midwest said at a special meeting here Friday.
City leaders gathered at the Downtown Marriott to discuss concerns about proposed funding cuts and rule changes to the Community Development Block Grant program, which traditionally has been a major funding source for housing and social service programs that help low-income residents. Lawrence leaders said they're particularly concerned about the future of funding for home ownership programs and homeless services.
"If this goes through, I think it would devastate Lawrence's program," City Commissioner Boog Highberger said. "It's trickle-down economics at work again."
Bush's proposed budget calls for a 35 percent cut in funding for the federal CDBG program and would shift oversight of the program from the Department of Housing and Urban Development to the Department of Commerce.
A need to control the federal budget deficit has been one reason offered for the proposed changes. But Emanuel Cleaver, a Missouri congressman and former mayor of Kansas City, Mo., said the effort was misguided.
"I do think there is the need for some belt tightening, but I don't think we should tighten the belt around the neck of the poor," said Cleaver, who arranged Friday's meeting, which attracted mayors from as far away as Des Moines, Iowa.
Exact ramifications aren't known yet, but Lawrence officials said they believe between $350,000 to $500,000 of the city's $1.1 million in CDBG funding it receives annually could be at risk, if Bush's budget is approved.
The money provides funding to five low-income neighborhood associations -- Brook Creek, East Lawrence, North Lawrence, Oread, and Pinckney -- in addition to a half-dozen social service agencies. In 2004, the program provided major funding to the Community Drop-In Center, The Salvation Army and Housing and Credit Counseling.
"We're certainly concerned about it and we're really concerned for the whole community," said Geri Summers, executive director of the Douglas County Aids Project, which received $4,000 in CDBG funding in 2004. "There is a lot of good work being done with CDBG money in this town."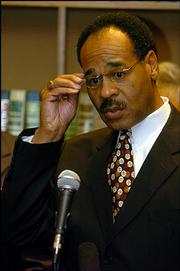 In Lawrence, the program also funds a first-time homebuyers program, home weatherization efforts and an emergency furnace-replacement program for low-income homeowners.
Highberger said there was speculation that once the program is shifted into the Department of Commerce that the funds would not be allowed to be used for housing or social service programs. Under the current program, cities have great flexibility in how they can use the funds. In the proposed system, Highberger said many of the decisions would be made by the federal department.
Highberger said the proposed changes likely would create new questions about how the city would fund much talked-about services for the homeless and the community land trust concept, which is designed to address affordable-housing issues.
Cleaver urged city leaders to begin a campaign to save the current program by contacting members of their congressional delegations. The Midwest cities also are tentatively planning a series of press conferences on March 11 that would highlight individuals who would be affected by the loss in funding.
"It is a big issue for us," Highberger said. "We would have to figure out how to fund some of these programs. Some of this we can't allow to go unfunded."
Attempts to reach Republican members of Lawrence's congressional delegation for their comments on the budget proposal were unsuccessful Friday afternoon.
Copyright 2018 The Lawrence Journal-World. All rights reserved. This material may not be published, broadcast, rewritten or redistributed. We strive to uphold our values for every story published.