New York — Artists Christo and Jeanne-Claude told delegates from around the world who toured "The Gates" in Central Park that they want people to think of their projects as a once-in-a-lifetime experience.
"We love these words: Once upon a time there was 'The Gates' in Central Park.' Once in a lifetime and never again," Jeanne-Claude said at a reception Thursday for "sister city" delegates at the Boathouse in Central Park.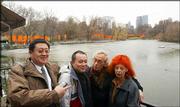 She said the special aesthetic quality flowing through "The Gates" and their other projects was "love and tenderness," borne out of the works' temporary nature.
About 100 delegates from Beijing; Budapest, Hungary; Cairo, Egypt; Jerusalem; Johannesburg, South Africa; London; Madrid, Spain; Rome; Santo Domingo, Dominican Republic; and Tokyo made the trip as part of the Sister City Program of the City of New York.
They appeared to be charmed by Christo and Jeanne-Claude, whom they peppered with questions during a reception after taking a walk through "The Gates."
The 16-day public art installation, which ends Feb. 27, features 7,500 gates of saffron-colored fabric swaying in the breeze along 23 miles of the park's footpaths.
"It creates a space for your imagination. It really does look like a river of light," said one delegate, Steven Sacks, Johannesburg's director of arts and culture. "It interacts with you."
The artists are known worldwide for their monumental temporary works of art, which include surrounding 11 islands in Miami with pink woven fabric in 1982, wrapping silver fabric around the German Reichstag in 1995 and opening 3,100 umbrellas in Japan and California in 1991.
The delegates, composed of cultural and civic leaders, were amused by Christo's description of how he and Jeanne-Claude scouted out the park for just the right placement of the fabric-draped frames.
"We walked 100 miles and went through three pairs of shoes to pinpoint the place where each gate would be good," Christo told the gathering. "It's a human project. All our projects are very dynamic. They stir emotion because of the cloth."
Copyright 2018 The Associated Press. All rights reserved. This material may not be published, broadcast, rewritten or redistributed. We strive to uphold our values for every story published.