Washington — Roman Catholic leaders said Friday they received 1,092 new abuse claims against American priests and deacons last year, even after they already had paid more than $800 million in settlements during the long-running crisis over predatory clergy.
Bishops said, however, the flood of fresh allegations was not a sign abuse was rampant in parishes today. Most of the alleged incidents occurred decades ago and nearly three-quarters of the 756 accused clerics had died, been defrocked or been removed from public ministry before the claims were made in 2004, church leaders said.
Still, the financial fallout continues. Kathleen McChesney, head of the bishops' Office of Child and Youth Protection, said the total payout to victims had climbed to at least $840 million since 1950.
"The crisis of sexual abuse of minors within the Catholic Church is not over," McChesney said. "What is over is the denial that this problem exists."
The latest figures on molester priests came from a survey U.S. bishops commissioned to help restore trust in their leadership after the abuse crisis erupted in January 2002 in the Archdiocese of Boston and spread nationwide.
A companion audit found that nearly all the nation's 195 dioceses were fully complying with the child protection programs that prelates mandated nearly three years ago. Dioceses and religious orders said they spent more than $20 million on child protection last year.
The audit was conducted by teams comprised mainly of former FBI agents who visited dioceses across the country. One diocese, in Lincoln, Neb., refused to participate. Four other dioceses and three small Eastern-rite territories were deemed out of compliance.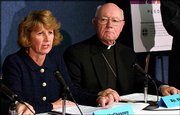 The dioceses were Burlington, Vt., Fresno, Calif., Wheeling-Charleston, W.Va., and Youngstown, Ohio. Each was found to be partially, but not fully, following the sex abuse policy.
Victims' groups called the audits misleading, saying bishops had too much control over the review and victims had too little input.
They also argued that revelations about the large number of new claims in 2004 was evidence abuse was much more widespread than church leaders had been willing to acknowledge.
Last year, the bishops released an unprecedented statistical review that found 4,392 priests had been accused of molesting minors in 10,667 cases between 1950 and 2002 alone.
The crisis continues: Roman Catholic leaders last year fielded 1,092 new claims of sex abuse against U.S. clerics. Most of the alleged incidents happened decades ago and most of the accused priests and deacons are no longer in ministry.Rising costs: The latest tally of what church leaders have paid in settlements has reached at least $840 million since 1950.
Copyright 2018 The Associated Press. All rights reserved. This material may not be published, broadcast, rewritten or redistributed. We strive to uphold our values for every story published.