San Francisco — When word first emerged this week that scammers had illegally obtained detailed dossiers on 35,000 people by posing as legitimate customers of ChoicePoint Inc., the data-brokering company portrayed it as a relatively minor criminal case, limited to California.
But by week's end, it was shaping up to be a full-blown scandal with as many as a half million people nationwide potentially vulnerable to identity theft.
Outraged, attorneys general from 38 states demanded that ChoicePoint warn any victims in their states as well, and politicians, consumer advocates and security experts called for more federal oversight of a lightly regulated industry that gathers and sells personal data about nearly every adult American.
On Friday, the Los Angeles task force in charge of the criminal investigation confirmed that at least 700 people had their identities stolen during the yearlong scam by still unknown con artists who had signed up as clients of ChoicePoint.
The task force leader, sheriff's lieutenant Robert Costa, said the number of people vulnerable to identity theft in the case could reach 500,000.
That's a much higher number than the latest estimate acknowledged by ChoicePoint, which belatedly sent warning letters to a total of 145,000 people in various states after a chorus of complaints.
The volume of data compromised was so huge that deputies are almost certain that a 41-year-old Nigerian man sentenced Thursday to 16 months in jail in the scam did not act alone.
The man, Olatunji Oluwatosin, was arrested on Oct. 27 when ChoicePoint faxed him some paperwork at a Kinko's store in a sting operation. He pleaded no contest and did not agree to help authorities in the probe.
"We were victimized by some extremely well-organized criminals," ChoicePoint spokesman Chuck Jones said.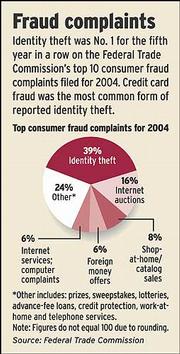 An Alpharetta, Ga.-based spinoff from the credit-reporting giant Equifax, ChoicePoint maintains databases that hold 19 billion Social Security numbers, credit and medical histories, motor vehicle registrations, job applications, lawsuits, criminal files, professional licenses and other pieces of sensitive information. ChoicePoint also owns a DNA analysis lab and facilitates drug testing for employers.
But ChoicePoint and other privately owned aggregators of personal information operate with virtually no federal oversight, and critics say the companies haven't done enough to safeguard their information-rich databases.
"There's a serious problem that we as a nation don't seem to grasp -- that the public is at risk whenever organizations collect massive amounts of information about us and they don't take extraordinary precautions to ensure that that information is protected," said Dr. Larry Ponemon, who runs a research firm in Tucson, Ariz., dedicated to privacy management in business and government. "People ought to be standing in lines protesting this."
Copyright 2018 The Lawrence Journal-World. All rights reserved. This material may not be published, broadcast, rewritten or redistributed. We strive to uphold our values for every story published.