In America, the words "I'm starving" are understood to be a mere turn of phrase. Not so in developing countries around the world, where about 29,000 children die daily from hunger and preventable diseases.
Two groups of Lawrence youths will soon learn firsthand what it means to feel truly hungry when they participate in a fund-raiser to help feed impoverished families and children for whom the threat of starvation is a reality.
Junior high and high school youth group members of Lawrence Free Methodist Church, 3001 Lawrence Ave., and First Christian Church, 1000 Ky., will join thousands of groups in 21 countries -- half a million teenagers in America alone -- taking part in World Vision's 13th annual 30 Hour Famine.
Youth group members are raising money through donors and sponsors to help millions of starving and hurting children in some of the world's poorest countries.
The groups then will undertake a 30-hour, adult-supervised fast (consuming only water or juice) to understand what hunger is like.
During the fast, the teenagers will engage in different activities, such as community service projects, volunteer work or study, depending on how each group plans its own events.
Afterward, the money raised will be sent to World Vision, a Christian relief and development organization, and then put to use in areas such as Kenya, Sudan or the United States.
Last year's 30 Hour Famine raised $11.4 million, and this year's goal is $13.5 million.
The National Famine Date set by World Vision is Friday and Feb. 26, but groups can raise funds and fast anytime.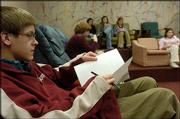 Youth group members from First Christian will participate in the 30 Hour Famine Sunday and Monday.
Youths from Lawrence Free Methodist Church will have their fast on the National Famine Date.
Sacrificial giving
Katie Heacock, 17, a senior at Free State High School, has taken part in the fund-raiser four times.
"I love raising money for people. It's this wonderful feeling of accomplishment," says Katie, a member of Lawrence Free Methodist Church. "I like to work for things that don't benefit me personally."
For last year's 30 Hour Famine, she raised $1,000 -- $180 of which came out of her own pocket.
Her goal this year is more ambitious. She has pledged to raise $1,800 and plans to contribute $360 of that amount from her savings.
"It gives you more desire to be involved in missions," Katie says. "You start to put yourself and the world in perspective. It becomes apparent how much the typical American has compared to the rest of the world."
29,000Children who die each day from preventable diseases such as malnutrition, malaria, diarrhea and acute respiratory infections852 millionPeople in the world who are malnourished153 millionChildren under age 5 who are malnourished1 in 10Children in developing countries who die before turning 51 in 165Children in the United States who die before turning 5400 millionPeople who have died from hunger and poor sanitation in the past 50 years -- three times the number of people killed in all the wars fought in the 20th centurySource: World Vision
Last year, youth group members at Katie's church raised $4,000 for World Vision. This year, the goal of the 20 to 25 young people is to raise even more: $6,000.
Carolyn Heacock, Katie's mother, served as Lawrence Free Methodist's pastor of student ministries for six years, supervising the 30 Hour Famine project for five of them.
"It's been one of the most important things that we've done with our kids to get them to look outside themselves and have a heart for needy people around the world," says Carolyn, now pastor of children's ministries.
"I am matching whatever they put in of their own money. I've been saving for a year. I believe in this, I believe in them learning to give sacrificially, and this is a motivator for them to do that."
Major turning point
Nick Prather, pastor of student ministry at First Christian Church, wanted to introduce his youth group to the 30 Hour Famine project because it's an activity he personally had benefited from.
Prather, 24, participated in the fund-raiser while a student at Medicine Lodge High School. He graduated in 1998.
"It was the first time I'd ever really considered the impact of hunger on a person's life. I didn't have a very broad perspective, and that was the first time my eyes were opened to the needs of other cultures and countries who experience famine on a day-to-day basis," he says.
"It was one of the turning points of my life. As a student, I hadn't realized how luxurious of a life I lived. Until you have that world perspective, kids can act as if the world revolves around them."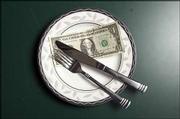 Leslie Beeman, 18, a senior at Lawrence High School, will be participating this weekend in 30 Hour Famine for the first time.
Leslie, a member of First Christian's youth group, is trying to raise $350 for the effort.
She views the fund-raiser as a time to focus on God and those who are less fortunate than she.
"Something like 29,000 kids die every day (from hunger and preventable diseases). I love kids, and I can't stand seeing that. I'm going to do what I can to help change it," Leslie says.
Copyright 2018 The Lawrence Journal-World. All rights reserved. This material may not be published, broadcast, rewritten or redistributed. We strive to uphold our values for every story published.