Boston — Defrocked priest Paul Shanley, whose crimes shook the Roman Catholic Church, was sentenced to 12 to 15 years in prison on child rape charges Tuesday to a burst of applause from some of the many who accused him of molesting them.
As a wobbly, 74-year-old Shanley was led away in handcuffs, one man called out mockingly, "Goodbye!"
Shanley will be eligible for parole after eight years. He was sent away despite warnings from some inmate advocates that the notorious child-molester would be a marked man behind bars and that prison could amount to a death sentence.
Judge Stephen Neel condemned the former priest for using his revered status to prey on a little boy. "It is difficult to imagine a more egregious misuse of trust and authority," he said.
Shanley, once known for a being a hip "street priest" who reached out to troubled children and homosexuals, was convicted last week of repeatedly raping and fondling a boy at his church during the 1980s.
His accuser, now a 27-year-old firefighter, said Shanley would pull him from Sunday morning catechism classes and molest him starting when he was 6 and continuing for six years. He said his repressed memories of the abuse came flooding back three years ago.
Shanley's lawyer, Frank Mondano, asked the judge to allow him to serve his sentence in a county jail rather than a more violent state prison. The judge refused.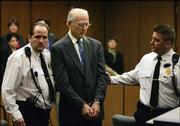 Mondano said he planned to appeal.
Prosecutors had recommended a life sentence. But Dist. Atty. Martha Coakley said the 12- to 15-year term essentially amounts to a death sentence given Shanley's age and health.
Copyright 2018 The Associated Press. All rights reserved. This material may not be published, broadcast, rewritten or redistributed. We strive to uphold our values for every story published.