Tokyo — Two centuries after the dawn of the industrial age, the world today takes its first concerted step to roll back the emission of "greenhouse gases" believed linked to climate change with the enactment of the Kyoto global warming pact.
The agreement, negotiated in Japan's ancient capital of Kyoto in 1997 and ratified by 140 nations, calls on 35 industrialized countries to rein in the release of carbon dioxide and five other gases from the burning of oil and coal and other processes.
Its impact, however, will be limited by the absence of the United States, the world's leader in greenhouse gas emissions.
Proponents say the stakes are high: The gases are believed to trap heat in the atmosphere, contributing to rising global temperatures that are melting glaciers, raising ocean levels and threatening dramatic and potentially damaging climate change in the future.
Implementation of the agreement was delayed by a struggle to meet the requirement that countries accounting for 55 percent of the world's emissions ratify it. That goal was reached last year -- nearly seven years after the pact had been negotiated -- with Russia's approval.
The Clinton administration signed the protocol in 1997, but the U.S. Senate refused to ratify it, citing potential damage to the U.S. economy and insisting that it also cover countries with fast-growing economies such as China and India.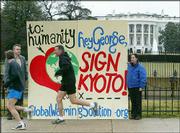 The White House has contended that complying with the treaty could cost millions of jobs, many of them to places like India and China, both signers of Kyoto but exempted from any limits on greenhouse gases.
Japan had an elaborate celebration planned for the enactment of the agreement today at the convention hall where it was negotiated in December 1997.
A series of speeches and a panel discussion was planned with environmental officials, experts and activists, as well as 2004 Nobel Peace Prize laureate Wangari Maathai of Kenya. The festivities were featuring messages from U.N. Secretary-General Kofi Annan and environmental officials around the world.
Copyright 2018 The Associated Press. All rights reserved. This material may not be published, broadcast, rewritten or redistributed. We strive to uphold our values for every story published.