Columbia, S.C. — Tarence Kinsey had such a good time during South Carolina's 73-61 victory over No. 3 Kentucky on Tuesday night, he wanted a do-over.
"I wish we could play it again. I had fun tonight," said Kinsey, who scored 17 points.
Carlos Powell added 12 in the second half, leading the Gamecocks to the rare victory over the Wildcats.
"It's the biggest win in my career," said Powell, a senior who is hoping to lead the Gamecocks to their second straight NCAA Tournament.
It was the first home win for the Gamecocks (14-8, 6-5 Southeastern Conference) over the Wildcats (19-3, 10-1) since 1997, and it was just South Carolina's sixth victory in 41 meetings against Kentucky, which never looked in synch.
Fans poured onto the court after the victory, arguably South Carolina's best in coach Dave Odom's tenure, and Kinsey stood on press row, slapping high-fives with celebrating students.
He later was apologetic, saying he couldn't find his way to the locker room -- but it was obvious he was overcome with excitement.
"They were going to run over me," he said with a smile.
The Wildcats, who had won 19 straight games against SEC opponents, had a season-high 21 turnovers, and Chuck Hayes was held to just one point. Kelenna Azubuike led Kentucky with 16 points -- five in the second half.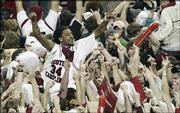 "You've got to make some shots. We had open threes," Kentucky coach Tubby Smith said.
The Wildcats shot just 26.1 percent (6-for-23) from behind the arc. They also struggled from the free-throw line, making 65.5 percent.
"It's frustrating," Azubuike said. "We can't get down on ourselves."
The near-capacity crowd finally had something to cheer about after the Gamecocks' disappointing 74-71 home loss to Auburn on Saturday as South Carolina added a high-profile win as it attempts to build its NCAA Tournament resume. The Gamecocks were 0-4 against ranked opponents coming into Tuesday's matchup, but they still have a game Saturday against No. 18 Alabama.
The Gamecocks lost to Kansas University and Pittsburgh earlier this season, both by four points.
No. 5 Wake Forest 68, Miami 63
Coral Gables, Fla. -- Eric Williams and Chris Paul each scored 13 points for the Demon Deacons, who won their sixth straight with a strong defensive effort. Wake Forest (22-3, 10-2 Atlantic Coast Conference) had its biggest lead at 61-53 with 41/2 minutes left. Miami (15-8, 6-6) rallied and had one shot to tie, but Anthony Harris' 22-footer fell short with 5 seconds to go. Guillermo Diaz had 20 points for the Hurricanes.
No. 18 Connecticut 94, Providence 89, 2OT
Providence, R.I. -- Charlie Villanueva had 22 points and 10 rebounds for the Huskies in the double-overtime win. Connecticut (16-6, 8-3 Big East) scored seven consecutive points to start the second overtime. Ryan Gomes scored a career-high 37 points -- including all of the Friars' 11 in the second overtime -- to go over the 2,000-point milestone in his career. The Friars (11-14, 1-10) had beaten UConn twice in a row.
No. 25 Villanova 89, Bucknell 51
Villanova, Pa. -- Allan Ray scored 23 points, leading the Wildcats to their biggest win of the season. Mike Nardi, who hit four three-pointers, and Curtis Sumpter each had 14 points for Villanova (15-6), which was coming off its worst loss of the year against No. 9 Syracuse. Chris McNaughton had 17 points for Bucknell (17-8).
Copyright 2018 The Associated Press. All rights reserved. This material may not be published, broadcast, rewritten or redistributed. We strive to uphold our values for every story published.