College Park, Md. — For 40 minutes, Duke withstood a spirited effort by Maryland in front of a fervent, hostile crowd.
In overtime, however, the seventh-ranked Blue Devils were worn out -- and nearly out of players.
Travis Garrison had 17 points and 11 rebounds, and the Terrapins pulled away for a 99-92 victory Saturday night. Including their victory in the finals of the Atlantic Coast Conference tournament last year, the Terps have won three straight against Duke for the first time since 1982.
"I think it's great. You realize the games were close, so you don't gloat," Maryland coach Gary Williams said. "You just feel good because you beat a great program and a great coach."
John Gilchrist scored 19 points, Chris McCray had 17, and reserve guard Mike Jones added 15 for Maryland (15-7, 6-5 ACC), which completed its first regular-season sweep of the Blue Devils since 1995.
"Good teams play well against each other," Duke coach Mike Krzyzewski said. "That's why we play well against them. They're a very good basketball team. They played with high energy and a sense of purpose."
The Blue Devils (18-3, 8-3) staggered to the finish without five players, all of whom fouled out late in regulation or in overtime. Shelden Williams had 23 points and 16 rebounds, and Daniel Ewing also scored 23. But both were gone long before the finish, as were Shavlik Randolph, Sean Dockery and Lee Melchionni.
"It was frustrating. We were definitely at a disadvantage missing five of our main players," Duke guard J.J. Redick said. "They just had more overall athleticism than we did in overtime because they still had their main guys."
Duke went 0-for-9 from the field in overtime, scoring all four of its points at the line.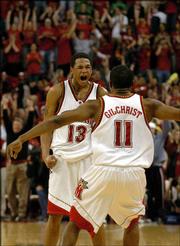 With Maryland up 91-90 in the extra session, Garrison scored on a follow and McCray made two foul shots for a five-point cushion. The Blue Devils simply didn't have enough firepower to mount a comeback.
At the final buzzer, the crowd poured onto the court to celebrate another Maryland victory in one of college basketball's fiercest rivalries.
"It was 12 rounds," Maryland forward Nik Caner-Medley said. "From the break, it was up and down and back and forth."
Redick scored 21 for Duke, which fell a game behind first-place Wake Forest in the ACC.
Duke led 86-82 with 1:34 left in regulation, but three-point plays by Gilchrist and Ekene Ibekwe put the Terrapins ahead 88-86 with 39 seconds left. Williams fouled out on the latter play, leaving the Blue Devils lacking in the middle.
DeMarcus Nelson scored on a drive to tie it with 34 seconds left, and Gilchrist and Caner-Medley misfired before the final buzzer.
Maryland committed only one turnover in the first half, outrebounded Duke 24-18 and got 16 points from Gilchrist in taking a 48-43 halftime lead.
The sellout crowd of 17,950 arrived hours before tipoff, and the atmosphere in the arena at tipoff was electrifying. Those in attendance included former Boston Celtics coach Red Auerbach, Baltimore Ravens coach Brian Billick and former Orioles infielder Cal Ripken.
The noise level jumped a notch when Caner-Medley scored off the opening tip, and Gilchrist hit a short jumper. After Duke closed to 11-9, Gilchrist made a layup and three-pointer to up the margin to seven.
Redick didn't get his first basket until nearly eight minutes were elapsed. Ewing kept the Blue Devils close by scoring 11 of their first 16 points, and he gave Duke its first lead with a three-pointer that made it 24-22.
But Maryland used a 9-0 spurt to go ahead 33-27, and the Terrapins stayed in front until Redick and Williams got going early in the second half.
No. 1 Illinois 70,
No. 20 Wisconsin 59
Champaign, Ill. -- Luther Head scored 26 points, and Dee Brown hit two three-pointers down the stretch to seal top-ranked and unbeaten Illinois' victory.
The Illini (25-0, 11-0 Big Ten) tied the school record with their 25th consecutive victory. That streak was set over three seasons from February 1914 to February 1916. It was Illinois' 19th straight victory at home and was played before a record Assembly Hall crowd of 16,865.
Alando Tucker scored 24 points for the Badgers (16-6, 7-4).
No. 5 Kentucky 60, Georgia 51
Lexington, Ky. -- Chuck Hayes and Patrick Sparks each scored 14 points, and Kentucky held off a late run by undermanned Georgia.
Kentucky (19-2, 10-0 Southeastern Conference) led by as many as 21 points in the second half, but Georgia (7-14, 1-10) rallied within 55-50 with two minutes left and came up empty on two other chances to further cut into the margin.
Rajon Rondo made a five-foot jumper, and Kelenna Azubuike went 3-of-4 from the free-throw line in the final 26 seconds to seal Kentucky's ninth straight victory since a loss to No. 3 Kansas University.
Sundiata Gaines had 13 points and 11 rebounds for Georgia, which started four freshmen and a sophomore and played without injured leading scorer Levi Stukes. The Bulldogs lost their sixth straight.
No. 6 Wake Forest 87, Florida St. 48
Winston-Salem, N.C. -- Justin Gray scored 20 points, and Eric Williams had 15 points and a career-high 14 rebounds for the Demon Deacons.
Sixth-man Taron Downey finished with 14 points for Wake Forest (21-3, 9-2 Atlantic Coast Conference), which lost in overtime at Tallahassee three weeks ago. In that one, Downey missed a free throw with less than a second left in regulation that would have won it.
Von Wafer had 16 points for the Seminoles (11-13, 3-8).
No. 8 Syracuse 90,
No. 22 Villanova 75
Philadelphia -- Hakim Warrick scored a career-high 32 points and grabbed 12 rebounds as Syracuse handed Villanova its worst loss of the season.
Gerry McNamara had 18 points for the Orange (22-3, 9-2 Big East), who had two of their last three games, both to top 25 teams.
Randy Foye had 18 points for the Wildcats (14-6, 5-5), who hadn't lost by more than six points this season.
No. 9 Louisville 65, South Florida 57
Louisville, Ky. -- Ellis Myles scored 15 points, and Taquan Dean and Larry O'Bannon each added 13 for Louisville (21-4, 9-2 Conference USA).
Terrence Leather scored 18 points to lead South Florida (10-12, 3-8), which lost for the eighth time in 10 games.
The Cardinals shot a season-low 33 percent in an 85-68 loss to Memphis on Wednesday and were 5-for-15 from three-point range and 20-of-54 overall (37 percent) against the Bulls.
No. 12 Arizona 83, UCLA 73
Los Angeles -- Salim Stoudamire and Ivan Radenovic each scored six points during a decisive 19-0 run early in the second half, and Arizona beat UCLA.
Stoudamire scored 15 of his 22 points in the second half to lead the Wildcats. Radenovic had 19 points and 12 rebounds, and Mustafa Shakur scored 17.
By winning for the 18th time in 20 games and beating UCLA soundly for the third straight time at Pauley Pavilion, the Wildcats (21-4, 11-2 Pac-10) moved into first place in the conference.
The win was the 301st in conference play for Lute Olson since he became Arizona's coach in 1983 and moved him within three of Pac-10 record-holder John Wooden, who watched the game from behind the Bruins' bench.
Freshman Jordan Farmar led the Bruins (13-7, 7-6) with a career-high 27 points and five assists. UCLA scored the last 11 points.
No. 13 Michigan St. 64, Michigan 49
Ann Arbor, Mich. -- Alan Anderson scored 16 points, and Shannon Brown had eight of his 14 in the opening minutes for Michigan State.
The Spartans (17-4, 8-2 Big Ten) have won 14 of their last 16 games and have lost only one of the previous 13 matchups against the Wolverines.
Dion Harris scored 22 points for the reeling Wolverines (12-13, 3-8), who have lost eight straight, their longest losing streak since dropping 11 in a row during the 1981-82 season.
No. 14 Gonzaga 61, Loyola Marymount 58
Los Angeles -- Ronny Turiaf had 20 points and 11 rebounds, and Gonzaga dodged a huge upset by holding off Loyola Marymount.
J.P. Batista scored his only three points of the game in the final 9.1 seconds, first hitting a layup and then a free throw to give the Bulldogs a four-point lead. Loyola Marymount's Damian Miller missed a potential tying three-pointer at the buzzer.
Turiaf was 6-for-8 from the field and 8-for-11 from the foul line. Adam Morrison added 16 points and 12 rebounds for Gonzaga (19-4, 10-2 West Coast Conference), which has won six in a row.
Loyola Marymount (3-7, 11-12) has lost eight of 10.
No. 15 Utah 64, Colorado St. 50
Salt Lake City -- Andrew Bogut scored a career-high 33 points and grabbed 16 rebounds to lead Utah over Colorado State for its 16th straight victory.
Bogut, who also blocked five shots, missed his first two free throws and then made 17 in a row for the Utes (21-3, 9-0 Mountain West), whose winning streak is the second-longest in the nation behind top-ranked Illinois (25-0).
Matt Williams scored 17 points for the Rams (9-13, 1-8), who lost their seventh straight game overall and 18th straight on the road.
No. 17 Alabama 71, Mississippi 45
Tuscaloosa, Ala. -- Kennedy Winston scored 22 points, and Alabama shot 58 percent in a victory over Mississippi.
The Crimson Tide (19-4, 8-2 Southeastern Conference) turned a comfortable lead into a rout with a late 16-2 run. With the victory, Alabama's eighth consecutive win over Ole Miss at Coleman Coliseum, the Tide took a two-game lead over LSU in the SEC West.
Chuck Davis had 15 points, eight rebounds and five blocked shots for Alabama. Justin Johnson led the Rebels (12-12, 3-8) with 11 points.
No. 18 Pittsburgh 68, Notre Dame 66
Pittsburgh -- Carl Krauser's runner from the lane with 11 seconds remaining put Pittsburgh ahead to stay following two Notre Dame comebacks.
Krauser had 16 points for the Panthers (17-4, 7-3 Big East), who trailed by as many as five points before going on a 14-1 run without starters Krauser and Chris Taft to take a 58-50 lead.
Chris Quinn had 25 points for the Fighting Irish (14-7, 6-5). His fifth three-pointer tied the game at 65.
DePaul 85,
No. 21 Cincinnati 66
Rosemont, Ill. -- Quemont Greer scored 25 points, and Drake Diener added 22 to lead the Blue Demons, who lost, 83-54, Jan. 6 at Cincinnati.
DePaul (16-5, 8-2 Conference USA) went on a 16-4 run to take a 73-49 lead with 9:03 left. The Blue Demons have won four straight and eight of nine.
Eric Hicks had 22 points for Cincinnati (18-6, 6-4), which has lost three straight conference games.
No. 24 Pacific 64,
Utah St. 63
Logan, Utah -- Christian Maraker's jump shot with 2.5 seconds remaining gave Pacific a victory over Utah State.
The Tigers (20-2, 14-0 Big West) rallied from a 58-52 deficit to win their 16th in a row, tying for the second-longest streak in Division One behind top-ranked Illinois. Mike Webb made two three-pointers in the final minute and Maraker hit a 16-footer to win it.
The Aggies (18-6, 9-4) had chances to seal it, but David Pak missed two crucial free throws down the stretch. Utah State was only able to score on free throws in the last minute, and a critical turnover on an inbounds play proved costly.
Guillaume Yango scored 15 points to lead four Tigers in double figures. Maraker had 12, and Webb and David Doubley added 10 apiece.
Copyright 2017 The Associated Press. All rights reserved. This material may not be published, broadcast, rewritten or redistributed. We strive to uphold our values for every story published.