WINSTON-SALEM, N.C. — About 24 hours after Duke joined North Carolina atop the Atlantic Coast Conference, Wake Forest made it a three-way tie.
Did anyone notice?
"I know a lot of attention goes to Duke and North Carolina," Demon Deacons coach Skip Prosser said. "We're like those guys chasing Butch and Sundance. They know who we are. They know we aren't going anywhere."
Justin Gray scored 18 points, Eric Williams added 15, and No. 6 Wake Forest held off North Carolina State, 86-75, Thursday night.
Sixth-man Taron Downey was 4-of-4 on three-pointers and finished with 14 points to help the Demon Deacons (20-3, 8-2 ACC) stop a pair of rallies in the second half. Chris Paul had 13 points, eight assists and five steals.
"I did find my groove out there," Downey said. "Every good shooter wants to shoot that second one after he makes one, and after I made that second one, I had to shoot the third."
The Wolfpack (13-10, 3-7) had won three straight against their oldest rival, but not even a sensational performance from Julius Hodge could stop their slide toward the NIT. Benched for showing up late for a team function -- the second time this season that's happened -- the reigning ACC player of the year made his first 10 shots and scored 27 points.
Three times in the second half, Hodge jumped in the passing lane for steals and raced to the other end for dunks to bring N.C. State back from a 19-point deficit.
"I came into the game with the same attitude I always have," Hodge said. "It doesn't matter, because we still lost the game."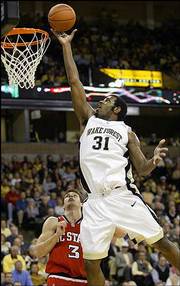 Wake Forest had an answer for every comeback. When Ilian Evtimov's three-pointer cut the lead to 58-51, Downey answered with one of his own, and Gray and Jamaal Levy combined for three free throws to increase the margin to 13.
But Hodge and the Wolfpack weren't finished. He got inside for a layup, added his final coast-to-coast slam, then fed Jordan Collins for an open three-pointer to make it 66-60. N.C. State had a chance to come even closer when Williams missed a dunk and had his putback blocked by Cedric Simmons.
When Simmons tried a pass to Tony Bethel, Paul intercepted it and forced a foul from Bethel, then made two free throws for an eight-point lead. That was part of Wake Forest's 35-10 advantage at the line, and Bethel and Engin Atsur fouled out trying to guard Paul.
"They're a heck of a basketball team," N.C. State coach Herb Sendek said. "Offensively, I don't see any component they don't have. And they don't let you off the hook when you foul them."
The Deacons closed the first half with a 17-7 run to take a 16-point lead, and the margin was 19 early in the second half on a follow by Levy.
No. 11 Washington 95, Oregon 88, OT
Eugene, Ore. -- Will Conroy scored 17 points, including a key three-pointer that sent the game into overtime, and No. 11 Washington rallied.
Nate Robinson had 24 points for Washington, which has won four straight since a loss at then-No. 11 Arizona. The Huskies (20-3, 10-2 Pacific-10) also snapped a three-game losing streak at historic McArthur Court.
Jordan Kent had 19 points and 16 rebounds for the Ducks (11-9, 3-8), who have lost six in a row and appear a long shot for the eight-team conference tournament.
No. 12 Arizona 88, USC 76
Los Angeles -- Salim Stoudamire scored 16 of his 26 points in the first half, and No. 12 Arizona beat Southern California to give Wildcats coach Lute Olson two significant milestones. Olson became the second Pac-10 coach to win 300 conference games. The record-holder is John Wooden, who guided UCLA to a 304-74 league record before retiring in 1975. Olson's teams are 300-86 against league opponents.
The 70-year-old can get his 301st conference win Saturday against the Bruins at Pauley Pavilion, where the 94-year-old Wooden usually is in attendance. Olson and Wooden each are members of the Basketball Hall of Fame.
No. 14 Gonzaga 82, Pepperdine 75
Malibu, Calif. -- Ronny Turiaf scored 20 points, and Adam Morrison had 19, leading No. 14 Gonzaga to a victory over Pepperdine.
Derek Raivio added 17 points to help the Bulldogs (18-4, 8-2) take sole possession of first place in the West Coast Conference, a half-game ahead of Saint Mary's.
Yakhouba Diawara had 24 points for Pepperdine (13-12, 3-7), including consecutive three-pointers in the final minute that pulled the Waves to 77-75 with 38 seconds left.
But Turiaf and Erroll Knight combined to hit five of six free throws in the final seconds for Gonzaga.
No. 21 Cincinnati 65, Xavier 54
Cincinnati -- Eric Hicks and Jason Maxiell dominated Xavier's depleted front line, leading No. 21 Cincinnati in the city's annual crosstown grudge match.
The Bearcats (18-5) used their biggest advantage -- the one upfront -- while pulling away to only their third victory in the last nine games against the Musketeers (11-9), who had neither the size nor the experience to pull off the upset.
No. 24 Pacific 78, Idaho 56
Moscow, Idaho -- David Doubley scored 21 points, helping No. 24 Pacific beat Idaho in the Tigers' first game ever as a member of the Top 25. Doubley connected on all five of his three-point shots as Pacific (19-2, 13-0 Big West) won its 15th game in a row and its 26th consecutive Big West game. Guillaume Yongo added 14 points and 12 rebounds for the Tigers.
Copyright 2018 The Associated Press. All rights reserved. This material may not be published, broadcast, rewritten or redistributed. We strive to uphold our values for every story published.