HONOLULU — Michael Vick and Donovan McNabb huddled in front of their lockers Thursday at Aloha Stadium, goofing on any NFC teammate crossing their paths and making plans for a night out on Waikiki Beach.
Sure, the Pro Bowl week isn't exactly the toughest stretch of the NFL season, but Vick is taking it seriously enough that his fellow all-stars and the Atlanta coaching staff have teased him about it.
In between spending time with his family and his closest friends from around the league, Vick also is hoping to make an impression on anybody who still doesn't know what the Falcons star can do.
"Definitely, I'm focused on this game a whole lot," Vick said. "I've been thinking about it since our season ended in Atlanta. This is the first chance I'm going to have to line up against the best of the best, so if you can't end the season with a championship, this is one of the next-best ways."
Vick has become one of the NFL's most popular, versatile and electrifying players in his four seasons, but he hasn't made a Pro Bowl appearance yet.
He was selected for the NFC squad after his breakout season two years ago, joining Dan Marino, Brett Favre, Kurt Warner, Daunte Culpepper and Tom Brady as the only second-year quarterbacks to earn a spot in the game in their first full year as starters. But Vick skipped the Pro Bowl to get a bunion removed from his right foot.
"This might be his first time in Hawaii, but he'll probably be setting up camp here every February for a long time," said Mora, who's coaching the NFC squad. "With his abilities, if we can put a team around him that's going to be successful every year, there's no reason he won't be one of the dominant quarterbacks in this league."
Though McNabb and Culpepper have seniority on Vick, they won't be surprised if Vick plays extensively Sunday in the second half of the Pro Bowl, where blitzing isn't allowed and no defenders try to deliver career-ending hits. Knapp has installed a variation of the Falcons' offense for the NFC squad, and Vick knows it as well as anyone.
"He's going to have all eyes on him when he goes in there," McNabb said. "Everybody knows what he can do in a real game. Now we'll get to see what he does when nobody can blitz you. It could be scary."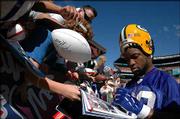 Vick passed for 2,323 yards and 14 touchdowns this season, and he rushed for 902 yards and three more scores. His passing numbers weren't spectacular in his first season in the West Coast offense, but his uncanny running abilities and his strong arm were more than enough to earn the respect of the players and fans who voted for him.
Vick counts McNabb and Culpepper among the players who extended advice to him early in his career, so he's particularly excited to be their teammates for the first time. McNabb and Vick also believe this Pro Bowl will be one more advancement for the acceptance of black quarterbacks.
"It says a lot about how far the game has come and how the position has evolved," Vick said. "We're getting an opportunity to show what we can do in this league. ... It shows that we're here to stay."
Copyright 2018 The Associated Press. All rights reserved. This material may not be published, broadcast, rewritten or redistributed. We strive to uphold our values for every story published.