Those who enjoy experimental or avant-garde theater -- performances that push the envelope of an audience's expectations -- will likely find much to appreciate in two plays being staged by E.M.U. Theatre.
Even their names suggest the unusual: "Self Torture and Strenuous Exercise" and "Futz!"
The plays, which run 40 to 45 minutes, make up a double bill that opens today at the Lawrence Arts Center, 940 N.H.
Each of the works, according to their directors, will challenge viewers to think about what they're seeing and, perhaps, to come away from the experience with a new perspective.
"On the surface, it's a very normal sort of straight play," says Gwethalyn Williams, who directs "Self Torture." "It's about two couples, and there's been some infidelity. But there are a lot of things about it that make it not what you're used to seeing -- a lot of different things in the structure, the way characters behave."
The one-act work, written by Harry Kondoleon, was first produced in 1982 in New York City.
"When you first go into the play, it doesn't look that strange," Williams says. "It begins as a conversation among three characters, and then it gets stranger and stranger. The audience isn't given any of the information that leads up to this, or the resolution. It's sort of like a snapshot.
"The way it's written, the characters are unable to really understand what's going on around them. They're so self-absorbed, they don't make logical decisions. That's where the humor comes in."
It's been hard work for Williams and the cast of four, because the characters in "Self Torture" aren't rational, and they change direction on a dime, she says.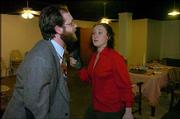 Her first experience directing a work for E.M.U. was last August, when she participated in a festival featuring 10-minute plays by 10 different Lawrence playwrights.
Thought-provoking questions
The other half of E.M.U. Theatre's double bill is a play written by Rochelle Owens -- "Futz!" -- first produced in 1967 and considered to be an avant-garde classic.
Ron Willis, a retired professor from KU's department of theater and film, describes it as a fable that has many parallels to the culture wars dividing America today.
The plot revolves around a character named Cyrus Futz, a farmer whose relationship with his pig, Amanda, goes well beyond the bounds of agriculture.
The townsfolk, needless to say, are not amused. In the end, Futz is killed due to his unusual taste in romantic partners.
What: "Self Torture and Strenuous Exercise" and "Futz!" two one-act plays by E.M.U. TheatreWhen: 8 p.m. today-Sunday and Feb. 18-20Where: Lawrence Arts Center, 940 N.H.Tickets: $6Ticket info: 843-2787
But that's not really what the work, which has a cast of 13, is about.
Underneath the controversial subject matter, Willis says, "Futz!" poses thought-provoking questions about individual rights and community responsibilities.
In other words: Who's to say what another individual can do in the privacy of his or her home, if no one is harmed?
"One of the things that happens in the culture wars is that one group of people tries to dictate behavior to other groups of people," says Willis, 69, who retired from KU in 2000 after 30 years of teaching.
Some audiences might see in "Futz!" a parallel to the current drive to amend the Kansas Constitution, banning any legal recognition of same-sex marriage or civil unions.
"What you have then is people, if they vote on it, coming to a decision about what is appropriate. Where does individual freedom stop and public mores and responsibilities start?" Willis says.
"This is an issue that comes up over and over again in various guises. Some community sets or adheres to a standard, and when there is a deviation from that standard, all kinds of things are visited upon the 'deviants.'"
Different perspectives
Williams and Willis share a belief that experimental or avant-garde theater -- such as "Self Torture" and "Futz!" -- is about taking artistic risks, defying traditional expectations and encouraging audiences to grapple with difficult questions.
"E.M.U. is a good fit for me, because they are very interested in developing new works, Williams says. "I've always had an interest in avant-garde and collaborative theater, where the actors sit down and create a show from the bottom up.
"The thing I really appreciate about doing this type of theater is that it makes you look at things in a new way. I appreciate the different perspective of the world you get from it."
Copyright 2018 The Lawrence Journal-World. All rights reserved. This material may not be published, broadcast, rewritten or redistributed. We strive to uphold our values for every story published.