Vatican City — Waving to crowds from his brightly lit popemobile, Pope John Paul II returned Thursday to the Vatican after a 10-day hospital stay, declared cured of breathing spasms that fueled concerns about the frail pontiff's ability to remain in charge of the Roman Catholic Church.
The pope's return -- a hastily arranged procession with a touch of pageantry designed to show the world he has recovered -- was broadcast live on Italian television.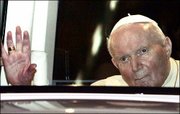 Hundreds of well-wishers, including doctors and nurses, applauded as the pope, in his usual white robes, was driven slowly out of the hospital grounds.
Papal spokesman Joaquin Navarro-Valls said the pope had recovered completely from the breathing crisis following influenza that led to his urgent hospitalization Feb. 1 at Rome's Gemelli Polyclinic, and that his general condition was continuing to improve.
Navarro-Valls said a battery of tests, including a CT scan -- a three-dimensional X-ray -- had ruled out any new illnesses.
He said it was too soon to say what the pope's schedule would be like, but it seemed likely he would appear at his apartment window overlooking St. Peter's Square to offer his Sunday blessing -- an appointment so important to the pontiff that he felt strong enough to do it while in the hospital.
Copyright 2018 The Associated Press. All rights reserved. This material may not be published, broadcast, rewritten or redistributed. We strive to uphold our values for every story published.