A Missouri man who stabbed his disabled son and left him to die on the Kansas Turnpike pleaded guilty Thursday to later wrecking his car in Lawrence in an attempt to kill himself, his other son and two daughters.
Raymond Boothe, 36, told Douglas County District Court Judge Michael Malone he couldn't remember much about that night other than thinking he was driving "to heaven."
Boothe, who has a history of mental illness, pleaded guilty to three charges of aggravated battery. He had been charged with three counts of attempted murder and one count of battery on a law enforcement officer.
Assistant Dist. Atty. Dan Dunbar agreed to reduce the charges in exchange for Boothe pleading guilty. Dunbar recommended that Boothe's likely 150-month sentence, or 12 1/2 years, be served concurrently with the 195-month sentence, or 16 years, he's already serving for the death of his 11-year-old son, Levi, who's body was found Aug. 28, 2002, alongside the turnpike in Leavenworth County.
The plea agreement, Dunbar said, holds Boothe "accountable for his actions" and assures that if his Leavenworth County conviction is ever overturned, he still would have to serve his Douglas County sentence.
Boothe's court-appointed attorney, Mark Manna, said his client accepted the offer because it "keeps (Boothe) from serving one day more than he's already going to serve and it keeps his kids from having to testify. That was very important to him."
Manna said Boothe has been diagnosed with bipolar disorder that had progressed to a manic phase and turned psychotic. Boothe is currently on a mild antidepressant.
"I'm told that being in a structured environment -- in prison -- keeps him from going into the manic swings, and that the antidepressant keeps him from being psychotic," Manna said.
Malone will sentence Boothe on March 4. He is not required to accept the terms in the plea bargain.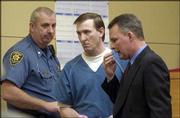 Asked by Malone whether he intended to harm his children when he crashed his car, Boothe, dressed in a red, jail-issue jumpsuit, replied no, noting he had made sure they were wearing their seat belts. The children -- then ages 9, 7 and 6 -- suffered minor injuries.
Manna said a police report indicated Boothe was driving 97 mph when his car struck curbing near 27th Street and Lawrence Avenue, flipping end over end.
"I thought we were (driving) to heaven," Boothe said. "I'm being honest."
Copyright 2018 The Lawrence Journal-World. All rights reserved. This material may not be published, broadcast, rewritten or redistributed. We strive to uphold our values for every story published.