The blood-soaked trenches of World War I are hardly the ideal place to set a whimsical romance, but filmmaker Jean-Pierre Jeunet has succeeded in doing just that.
Perhaps succeeded is a little too strong a word.
Jeunet's "A Very Long Engagement" is a peculiar hybrid to say the least. In visual terms, the "Amelie" writer-director shows command of the medium to rival Hollywood's finest. The film is already nominated for Academy Awards in art direction and cinematography.
It's also taken home Best Foreign Language Film honors from numerous critics groups, including The Kansas City Film Critics Circle. (A Paris court ruled the movie ineligible to be France's entry into the foreign language category at the Oscars, deeming it "too American" due to its Warner Bros. financing. Too American? To the French that's got to be quite an insult.)
But, honestly, the praise is a tad perplexing. Although the epic is wonderful to look at, it constantly struggles to provide narrative momentum. Ultimately, the film plays like a fusion of Stanley Kubrick's "Paths of Glory" and "Sleepless in Seattle."
Jeunet recruits his "Amelie" star, Audrey Tautou, for the lead role. She portrays Mathilde, one of many French women to lose their sweethearts to the Great War.
Or did she?
It's 1920 and the war has been over for several years. She's been informed her young fiance, Manech (Gaspard Ulliel), perished three years earlier when he and four comrades were sentenced to death for self-mutilation. Apparently, the soldiers were served a last meal, then cast from their trench into the no-man's land separating French and German forces. Although it was assumed all the men were killed, no one actually witnessed Manech's fate.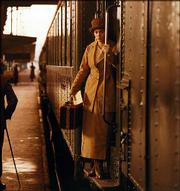 Mathilde's gut feeling is that her lover is still alive, so she begins an investigation of her own. As her quest progresses, those privy to key information start turning up murdered.
Structured as a police procedural, peppered with "Rashomon"-like flashbacks and equally versed at capturing the sobering horrors of trench warfare and the otherworldly quality of a fairy tale, "A Very Long Engagement" is one very imaginative boring movie.
Jeunet becomes so caught up in his own masterful gimmickry that he never lets the story (based on Sebastien Japrisot's novel) develop into anything other than a canvas for his ambitious vision. His imagery is certainly amazing, whether staging a biplane strafing in a bombed-out field or a zeppelin explosion in a makeshift hospital or recreating a postcard Paris of the 1920s.
However, Jeunet isn't satisfied just impressing viewers with his bag of cinematic tricks; he actively tries to pull the bag over their heads and suffocate them with it.
If the film's central mystery led someplace interesting, its shortcomings might be more easily forgiven. But its BIG FINISH approaches "it was all a dream" on the creativity meter.
The saucer-eyed Tautou -- so delightful in "Amelie" -- hardly makes an impression because she's never given a moment to act. She's just another wind-up plaything in Jeunet's arsenal. For a film whose title implies a romance of great time and distance, it's stunning how little emotion is present within the relationships onscreen.

Audiences may find themselves marveling at the skill of the filmmaking and completely uninterested in the characters' story.
One such scene typifies this duality. Midway through the tale, Mathilde stumbles across a widow who is linked to the mystery. Yet this small walk-on role is played by Jodie Foster. It's surprising and impressive to see the Oscar-winning star speaking French like a native (she's been fluent since 14). It's also utterly distracting.
Again, it's a case of "Wow, look at that!," while the actual story slips away.
Copyright 2018 The Lawrence Journal-World. All rights reserved. This material may not be published, broadcast, rewritten or redistributed. We strive to uphold our values for every story published.