In a season drowning in exclusive movie festivals, here is one where everyone is invited.
The Center for East Asian Studies is presenting seven films under the banner theme "Not your mother's Asia!"
"These films show Asia that is in no way stereotypical," says Randi Hacker, outreach coordinator for the center. "Our parents clearly thought about Asia in a very different way than the look we are going to get from these films. These films bring Asia into a more contemporary mode."
The festival has been divided into three sub-themes: Japan, China and Korea.
Beginning with Japan, the first three pictures will showcase Tokyo. The selections are "Tokyo Godfathers," "Lost in Translation" and "Bright Future."
Hacker describes the latter as a "a horror film that doesn't employ monsters or any kind of in-your-face horror like that. It takes the commonplace and makes it incredibly creepy."
Michael Baskett, assistant professor of film at KU, will lead a pre-film discussion on the portrayal of Tokyo in Japanese cinema at Sunday's opener.
Next, China and Taiwan will be represented in the movies "Millennium Mambo" and "Shaolin Soccer." These two are linked by the theme "Generation X." The martial arts/sports effort "Soccer" is the most financially successful Hong Kong-made movie ever.
Megan Greene, assistant professor at KU, will lead a pre-film discussion on Taiwan's club scene on Feb. 24.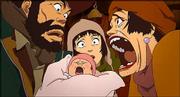 "I plan to explore contemporary Taiwan in a social and political sense," Greene says. "And talk about the club scene to any extent I am able."
Korea will be showcased by "Oasis" and "Tae Guk Gi," two provocative films that explore love and war.
"'Oasis' is a love story that has gotten accolades from around the world for its theme," Hacker says. "It unflinchingly deals with a very rough and extreme kind of love."
Admission is free. All films are shown at the Spencer Museum of Art auditorium.
Sunday, 2 p.m."Tokyo Godfathers" (PG-13)Three Tokyo homeless spend Christmas Eve Dumpster-diving for gifts. During the search, they find a young baby. Vowing to care for the child, they go in search of the mother.Feb. 17, 7 p.m."Lost in Translation" (R)A washed-up movie star and the young wife of a photographer meet in Tokyo and form a unique relationship.Feb. 17, 18, 7:30 p.m."Bright Future" (Not recommended for children)Two young factory workers find a friendship amid uncontrollable anger.Feb. 17, 24, 7 p.m."Millennium Mambo" (Not recommended for children)In Taiwan's club scene, a hostess finds herself torn between two men. The film chronicles the growth of a woman in a world of excess.Feb. 17, 27, 2 p.m."Shaolin Soccer" (PG-13)A spoof of sports and kung fu movie cliches, a young Shaolin follower reunites with his brothers to form a fighting soccer team.March 31, 7 p.m."Oasis" (Not recommended for children)Two outcasts search for love and acceptance, after struggling to overcome the pressures of family and fate.April 8, 7 p.m."Tae Guk Gi -- The Brotherhood of War" (R)Drafted into the Korean military, a boy tries to protect his brother from the hardships of war.
Copyright 2018 The Lawrence Journal-World. All rights reserved. This material may not be published, broadcast, rewritten or redistributed. We strive to uphold our values for every story published.