Baldwin — The scene was set up perfectly for the Baldwin High girls basketball team.
After a 65-60 overtime loss to Spring Hill on Jan. 29 in the third place game of the Wellsville Top Gun Invitational, the Bulldogs had the opportunity to settle the score on their home floor in a regular-season Frontier League contest Thursday.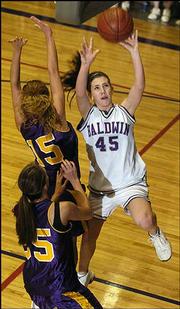 They didn't, but the game was nerve-wracking again in a 56-55 Spring Hill victory.
Down by one, BHS had the ball with less than 10 seconds on the clock. Baldwin junior Ellie Meinen raced down the court and found teammate Kelsey Verhaeghe open on the wing. But Verhaeghe's shot rimmed off to the left.
Ballgame.
Close -- like last time -- but no thrilling victory once again.
"I figured it would be a close game tonight," Baldwin coach Eric Toot said. "We had shots at the end, and that's all you can ask."
Added BHS junior Katelyn Miles: "We had our chances. We can't blame it on the last shot. We had to make our shots, and we just didn't."
Based on Baldwin's first quarter showing, it was amazing the team had a potential game-winning shot. The Bulldogs (8-7) started off ice-cold, not posting their first bucket until the 2:20 mark in the first quarter. Five of the team's eight points in the quarter came in the last 44 seconds.
| | | | | |
| --- | --- | --- | --- | --- |
| Spring Hill | 12 | 12 | 14 | 18 -- 56 |
| Baldwin | 8 | 12 | 24 | 11 -- 55 |
Spring Hill:
Amanda Dittmer 18, Amanda Hammersmith 10, Nichole Wessel 9, Lauren Sykes 8, Lacey Cunningham 7, Kara Erikson 4.
Baldwin:
Amanda Vander Tuig 12, Kelsey Verhaeghe 9, Denise Orloff 8, Katelyn Miles 8, Ellie Meinen 7, Amy Craig 5, Colby Heckathorne 4, Katie Krysztof 2.
In contrast, Baldwin went on a scoring spree in the third quarter, putting up 24 points in the quarter alone to take a 44-38 advantage into the final frame.
Spring Hill went on a 6-0 run to begin the fourth quarter and took the game back over.
On two occasions, Miles hit what has become her patented jumper from free-throw range to cut the Broncos' edge to one point. But it wasn't enough.
Despite the loss, Toot was impressed with his team's offensive attack.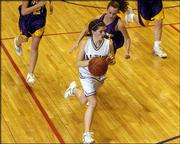 "I just think it was a very good basketball game on both ends," he said. "Both teams executed and played unselfish.
"It's not like we gave the game away. They played good basketball and we played good basketball."
BHS sophomore Amanda Vander Tuig had a team-high 12 points. Amanda Dittmer led Spring Hill with 18 points.
Baldwin will travel Monday to Prairie View.
Copyright 2018 The Lawrence Journal-World. All rights reserved. This material may not be published, broadcast, rewritten or redistributed. We strive to uphold our values for every story published.