Jane Kurtz spent most of her childhood in Ethiopia, and those years in east Africa left her with a wellspring of ideas for her books.
"If you have a strong memory, something that really makes you feel joyful or scared, that's a good thing to write about," said Kurtz, whose parents worked in Ethiopia for the Presbyterian Church for more than 20 years.
Kurtz, 52, has written more than 20 books. She formerly taught in the English department at the University of North Dakota.
She now lives in Hesston and Ellsworth but spent Monday through Thursday this week with fifth-graders at each of Lawrence's public elementary schools. She also visited St. John's Catholic School.
Her visit is sponsored by Adventures in Imagination, a partnership of US Bank, the Lied Center and Lawrence public schools.
Thursday morning she was at Quail Run School, showing the students slides of African animals, Ethiopian friends and old family photos.
Quail Run fifth-graders had been preparing for Kurtz's visit for nearly a month by reading her books and doing projects.
"I think her books are a little bit like nonfiction," 10-year-old Maiko Kitaoka said after listening to Kurtz. "There are things in her books that actually happened to her. It's really interesting to see how that happened."
Kurtz told the students she and her brother wrote "Water Hole Waiting" based on experiences from their lives.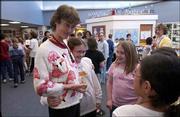 "I put my favorite animal in that book, which is a bush baby," she said.
Her books include the retelling of Ethiopian folk tales she heard as a child and the story of two refugee girls in the 1980s.
She also showed the children slides of her home in Grand Forks, N.D., which was flooded in 1997. She and her family had to evacuate and lived in a trailer for about four months. She used her experiences to write "River Friendly, River Wild."
Kurtz and a friend started the first free library for children in Ethiopia's capital, Addis Ababa,nearly three years ago. She also wrote the first bilingual picture book for Ethiopian children.
Copyright 2018 The Lawrence Journal-World. All rights reserved. This material may not be published, broadcast, rewritten or redistributed. We strive to uphold our values for every story published.