The backlog of needed maintenance on state university campuses may not be addressed during this legislative session, a spokesman for the Kansas Board of Regents said Wednesday.
Kip Peterson, the regents' director of government relations and communications, said the regents' priority during the session has turned to advocating for the budget increases included in Gov. Kathleen Sebelius' budget proposal. He said he didn't know whether the regents would offer a proposal for dealing with an estimated $584.5 million in needed repairs on the state's aging campuses.
"It's still an issue, but there's no momentum at the moment on the issue," he said. "You've got to balance your priorities. Our No. 1 priority right now is preserving the governor's budget request."
The Board of Regents previously had listed deferred maintenance at the six state universities among its priorities for the 2005 legislative session, and regents have been working to identify possible funding sources for the repairs for several months. Possibilities include increasing the education building fund mill levy, which uses property taxes to pay for university repairs, and issuing bonds.
Peterson said it's still possible a proposal could be introduced before the end of the legislative session, but he said it wouldn't happen soon.
The regents are working to push through Sebelius' budget proposal, which includes a 2.5 percent salary increase, plus an additional 1 percent for faculty; funding for the 27-paycheck year, a budgeting anomaly that happens every 11 years; and funds to continue the Kansas Medical Student Loan program.
Jim Long, vice provost for facilities planning and management at Kansas University, said between $160 million and $170 million in repairs are awaiting funding on the Lawrence campus. Repairs include heating and ventilation, electrical and plumbing concerns, he said.
The amount of backlogged repairs is increasing by about $15 million each year, when inflation and deterioration are factored in, he said.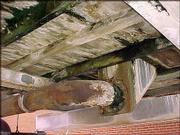 "It's a problem of crisis proportions for us as it is for other regents institutions," Long said. "The figures are high and they're getting higher, but they're real. They must be addressed."
Senate President Steve Morris, a Republican from Hugoton, said he was still hopeful regents would make a proposal on deferred maintenance during this session. If not, he said, he and other senators will to work after the session to put together a plan.
But Morris said he could understand why, during a year legislators are considering large increases in K-12 funding, regents would work to protect their base budget.
"But I don't think it's an 'either/or' proposition," Morris said. "We've talked about it for two or three years, and we're not getting anywhere. Things are getting worse."
Copyright 2018 The Lawrence Journal-World. All rights reserved. This material may not be published, broadcast, rewritten or redistributed. We strive to uphold our values for every story published.