Valentine's Day presents a tall order: How do you convey the depth of your love with a single gesture or gift?
Men (and women to a lesser degree) spend days and sometimes weeks pondering the perfect token. In the holiday's storied history, flowers often have topped the list of ways to bequeath such a sentiment. Especially roses. Especially red ones.
You might say the flowers have become the language of love for the cherished in our lives.
But Cherie Yvette Forsythe, owner of Cherie Yvette Flowers of Lawrence, suggests we take off our rose-colored glasses and see the alternatives -- an array of gorgeous bloomers sure to make just the impact a gift giver seeks.
"An English garden rose or other varieties are exquisite, and you can see why brides choose them. But, unfortunately, roses have become so commercially produced that they have now lost a lot of their impact," Forsythe says.
Around Valentine's Day, the price of roses triples and the quality often suffers under the strain of such a huge demand. That doesn't necessarily bode well for gift givers, who are trying to elicit an emotional response.
"A great flower arrangement is a lot like a fabulous meal," Forsythe says. "You can take a woman to McDonald's, and, yes, she will have eaten, but the emotion and the impact are lost."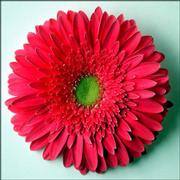 Forsythe would know a little something about making an impact. She supplies flowers to the floral designers of such big names as Oprah Winfrey, Harrison Ford, John Travolta and a new client in Los Angeles who creates the floral aesthetics for the Academy Awards and did the flower arrangements for Jennifer Aniston and Brad Pitt's wedding.
Forsythe is perhaps best known locally for selling fresh flowers from an outdoor stand on the northeast corner of Eighth and Massachusetts streets during the spring and summer. But her business has transformed well beyond a nickel-and-dime flower kiosk to a wholesale buying bonanza for more than 90 floral designers across the country.
"I started out buying with small farms, which made us different from the get-go," Forsythe says. "Now, with 50 growers in five countries working under our label, we can get the best that is growing out there."
So, how should romantic souls in Lawrence approach the often scary and expensive task of choosing flowers for their sweethearts?
"I think seasonally is the best way to go," Forsythe says. "That way you can feel more confident that a flower will look its best. For instance, it is summer in New Zealand, so we have ordered pink, purple, red and green hydrangeas from there. Our sweet peas are from Japan, I have parrot and French tulips coming in from Holland, and Italy is supplying us with our ranunculus and anemones."
Although sending flowers can be costly, Forsythe has a tip: "If you can only send five flowers, make them have a punch to them, again, for the maximum amount of impact with the idea of soliciting a heartfelt response. You can say a lot with one or two extraordinary flowers like an orchid or a lily simply arranged in a vase."
So this Valentine's Day, it may be time to leap into the unknown waters of unique flowers. Try something new and exciting.
-- Jennifer Oldridge, a Kansas University graduate, is an avid gardener who previously operated a landscaping business.
Flowers ¢ Ranunculus¢ Sweet pea¢ Hydrangea¢ French and parrot tulips¢ Vanda orchids¢ Anemones¢ Casa Blanca lilies¢ Asiatic lilies¢ Gerbera daisiesFlowering branches ¢ Almond¢ Pear¢ Quince¢ PeachFiller ¢ Herbs¢ Ornamental grasses¢ Banana leaves¢ Monstera leavesSource: Cherie Yvette Forsythe, owner of Cherie Yvette Flowers
Copyright 2018 The Lawrence Journal-World. All rights reserved. This material may not be published, broadcast, rewritten or redistributed. We strive to uphold our values for every story published.