Diane Brown works at the intersection of romance and fine cuisine, always operating with the belief that the most direct way to a man or woman's heart is indeed the stomach.
"Absolutely -- if you put a lot of thought and care and love into it, when you take the time to put together a meal for someone," says Brown, 42.
She took her time -- five years of research and writing -- to compose a book that reflects her passionate interest in wonderful food as the road map to amorous encounters, "The Seduction Cookbook: Culinary Creations for Lovers" (Innova Publishing, February 2005).
"It was so much fun -- dreaming up the recipes and seeing if they actually worked, the excitement of having it all come together," says Brown, who lives in the Brentwood section of Los Angeles.
The premise of "The Seduction Cookbook" is that certain foods can powerfully influence the heart, evoking amorous feelings and an atmosphere in which romance can bloom.
They accomplish this by appealing to our senses of sight, taste, touch and smell.
The visual excitement of a dish combines with subtle or intense flavor, heady aroma and varied textures to yield a culinary experience that stimulates both body and soul.
Brown's surprisingly straightforward recipes are delicious even to contemplate: radicchio, rose petal and pomegranate salad; scallops with asparagus and ginger beurre blanc; steak au poivre with pink peppercorns.
And those swoon-worthy, grown-up desserts: goat cheese, lemon zest and poppyseed stuffed strawberries; caramelized figs with raspberry coulis; and cappuccino tiramisu.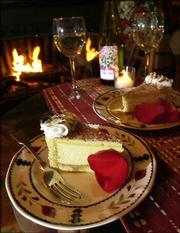 Or how about homemade fortune cookies with suggestive messages? (Example: "Don't worry if we get into a lip lock, I've got the key.")
Drawn from personal life
Brown's cookbook -- her first -- also features many recipes that include ingredients believed, through the ages, to have aphrodisiac qualities.
There is solid science behind the myths, according to the author.
"The chemical makeup of food changes the chemical makeup of your brain and your body. Oysters, for instance, are rich in zinc, which boosts testosterone levels and changes the way you feel," Brown says.
Here are tips to help you make a romantic meal, from "The Seduction Cookbook" by Diane Brown:¢ Make your plates look truly romantic with a garnish of edible flowers.¢ Use rose petals to adorn your dining table, and complement the romance of the setting with candles.¢ Tuck a love note into your partner's folded linen napkin for a surprise that will make him or her smile.¢ Couples who cook together share all of the sensual joys of cooking.¢ Create anticipation for your evening together by conveying your excitement. Call and leave a voice mail message when you know he or she won't pick up, or leave a note in his or her pocket.
"Chocolate has a pleasure-producing chemical -- phenylethylamine -- that is the same that the brain produces when you're falling in love."
Ultimately, however, it's not what's on the plate that creates a sense of romance. It's what lies right behind our own eyes.
"The greatest aphrodisiac is your brain," she notes.
Brown spent 15 years working as a senior manager for the Cheesecake Factory chain of upscale, casual-dining restaurants, based in Calabasas Hills, Calif.
She compiled the cookbook on weekends, all the while working 70 hours per week for the restaurant chain.
"About five years ago, I decided to put together all my recipes, so I could share them with everyone. They're all original," Brown says.
The recipes are the outgrowth of running her own business after college, Intimate Catering, as well as working in fine-dining restaurants and hotels.
And experiences from her personal life.
"Cooking (meals) for two has always been a passion. I started doing it for dates, and they always turned out to be the most romantic, the ones where we found out a lot more about each other," Brown says.
This holiday, designed for lovers, inspired by Cupid, deserves a lavish menu, replete with aphrodisiacs and sensual foods. Pull out the crystal, silver and china to make these dishes look truly elegant. Champagne would be the perfect way to toast your lover, and a robust cabernet sauvignon would be an intense match for the main course:¢ Oysters with apple mignonette¢ Radicchio, rose petal and pomegranate salad¢ Baked salmon with raspberry cabernet sauce or steak au poivre with pink peppercorns¢ Sugar snap peas with pearl onions¢ Seductive chocolate soufflesMenu and recipes source: "The Seduction Cookbook: Culinary Creations for Lovers"
More than nourishment
Lawrence chefs buy into the author's notion that fabulous food, paired with a seductive setting, is often an equation for romance.
It's also good business.
Every year, Liz Karr is swamped with requests from longtime customers to cater romantic Valentine's Day dinners delivered right to their homes.
Karr, owner of Liz Karr Catering, 512 E. Ninth St., creates special menu each year. Her menus typically include strawberries and chocolate, beef tenderloin with a port or red wine sauce, wild mushrooms, potato gratin with caramelized onions and Gruyere cheese, twice-baked potatoes, crÃme brûlee -- and, of course, champagne.
"We want to make it really nice, offering things that are more labor intensive and rich. It's a time you can get really creative, a fun time for any caterer or chef," Karr says.
Pachamama's, a fine-dining restaurant at 2161 Quail Creek Drive, is well-known locally for its elegant Valentine's Day dinners.
"We turn (over) the restaurant about three times during the evening, serving about 175 people. It's right up there with New Year's Eve," says Ken Baker, chef and owner of Pachamama's.
The special, six-course tasting meals are long on romantic atmosphere, and several diners have used the occasion for marriage proposals.
Baker believes that the right food (along with the right setting and perfect dining companion) definitely contributes to a seductive moment.
"That's one of the reasons I'm in this business. Our whole raison d'etre is to create a sublime experience. People don't eat just for nourishment; there's more to it," he says.
"We treat the food in our kitchen with the same respect that people treat the person they're in love with. At least, that's what we strive for."
Oysters with Apple Mignonette
12 medium oysters, your choice of variety
1/2 cup apple cider
3 tablespoons finely chopped tart apple, such as Granny Smith or Pippin
2 tablespoons finely chopped red pepper
1 whole shallot, finely chopped
1 tablespoon finely chopped parsley
1 tablespoon cider vinegar
Coarsely ground black pepper
Clean the oysters. Combine oysters and apple cider in a small saucepan and bring to a boil. Steam oysters, covered, over moderately high heat until they just open, about 4 minutes. Transfer to a plate after oysters have opened, reserve steaming liquid and discard any unopened oysters. Chill oysters until cool, about 30 minutes.
While oysters are chilling, pour oyster steaming liquid through a paper towel-lined sieve into a bowl to remove any grit. Stir 2 tablespoons strained liquid together with remaining ingredients and salt to taste. Discard remaining strained liquid.
Remove flat half of oyster shell and loosen oyster with a sharp knife. Put oysters in rounded half of shell. Arrange on plates and spoon sauce over oysters.
Radicchio, Rose Petal and Pomegranate Salad
1 head radicchio, washed and torn into bite-sized pieces
Petals from a fully bloomed red or pink rose, washed and dried
1 small pomegranate
2 tablespoons chopped toasted walnuts
2 tablespoons walnut oil
1 tablespoon red wine vinegar
1 tablespoon pomegranate juice
Salt and coarsely ground black pepper to taste
Cut the pomegranate in half, retaining the juices. Scoop the seeds from the pomegranate carefully and set aside.
In a small bowl, whisk walnut oil with vinegar and pomegranate juice, seasoning to taste.
Toss the radicchio, rose petals and walnuts gently with the vinaigrette. Divide salad onto two plates and sprinkle with pomegranate seeds.
Serve.
Baked Salmon with Raspberry Cabernet Sauce
1 1/2 tablespoons butter
1 whole shallot, minced fine
2 cups Cabernet Sauvignon
1 teaspoon fresh lemon juice
1 tablespoon raspberry preserves
Coarse ground black pepper, to taste
2 (8-ounce) salmon fillets, skinless and boneless
6 fresh raspberries, optional
Melt 1 tablespoon butter in saute pan on medium heat; add minced shallots when butter starts to bubble. Cook shallots until tender. Add Cabernet Sauvignon and cook over low heat, uncovered, until reduced by half, for about 45 minutes. The sauce should be syrupy in texture. Add lemon juice to reduction. With a wire whisk, quickly incorporate raspberry preserves and butter. Hold away from heat.
Preheat oven to 450 degrees. Season salmon fillets with coarse black pepper. Place in a baking dish and cook for approximately 15 minutes, less if a medium-rare doneness is preferred. Place salmon fillet on plate, pour sauce over fish, forming pool on plate. Garnish each dish with 3 fresh raspberries.
Serve.
Steak Au Poivre with Pink Peppercorns
1 tablespoon sweet (unsalted) butter
1 shallot, minced fine
1/4 cup cooking sherry
1 tablespoon pink peppercorns
1/4 cup heavy cream
1 tablespoon coarsely ground black pepper
1 pinch kosher salt
2 (8-ounce) filet mignon or sirloin steaks
Heat broiler. Season steaks with coarse black pepper and salt on both sides. Place steaks under broiler and cook for approximately three minutes on each side for medium-rare doneness.
In a saucepan, melt butter until bubbling. Add minced shallots and cook until soft. Add sherry and pink peppercorns and reduce by half. Stir in cream, and simmer until sauce thickens.
Place steaks on serving dishes and top with the peppercorn sauce.
Serve.
Sugar Snap Peas with Pearl Onions
6 ounces pearl onions, root ends trimmed and cut with an "X"
2 whole scallions, white and green parts, chopped
1/4 pound sugar snap peas, trimmed
1/4 tablespoon unsalted butter, softened
Boil pearl onions in salted water for 15 minutes and strain in colander. Rinse under cold water and then peel.
Cook sugar snap peas in a large pot of salted water for 1 minute. Add scallions and pearl onions and cook for 1 minute more. Drain and toss with butter, add salt and pepper to taste.
Serve.
Seductive Chocolate Souffles
1/4 cup sugar plus additional for coating gratin dishes
2 tablespoons all-purpose flour
1 tablespoon cold unsalted butter
1/2 cup milk
1/4 ounce semisweet chocolate, chopped fine
1 large egg yolk
1 large egg white
Preheat oven to 400 degrees. Butter two 3/4-cup gratin dishes and coat with additional sugar, shaking out excess.
In small bowl, blend together 2 tablespoons sugar, flour, butter and a pinch of salt until mixture forms into small pellets.
In a small saucepan, bring milk to a boil and whisk in flour mixture and chocolate. Cook mixture over moderate heat, whisking until thickened, about 15 seconds, and cool 30 seconds.
In bowl, whisk yolk lightly and whisk into chocolate mixture. In another bowl, whisk whites with a pinch of salt until they hold with peaks, and whisk in remaining 2 tablespoons sugar, a little at a time, until meringue holds stiff peaks. Fold in remaining meringue gently but thoroughly.
Divide souffle batter between gratin dishes and put on a baking sheet. Bake chocolate souffles in middle of oven for 15 minutes or until puffed.
Serve immediately.
Cappuccino Tiramisu
8 1-ounce ladyfingers
1 egg
1/4 cup sugar
1/2 cup mascarpone, an Italian dessert cheese
1 teaspoon semisweet chocolate shavings, plus 2 pinches for garnish
1 shot espresso or one demitasse cup very strong coffee
1 tablespoon coffee liqueur
In a small bowl, beat egg and sugar, and then blend in mascarpone and chocolate until smooth and creamy. In another bowl, mix espresso and coffee liqueur.
In two large coffee cups, cappuccino mugs or small bowls, arrange ingredients in layers starting with 2 ladyfingers at the bottom, pouring 1/4 of the coffee mixture over them. Place 1/4 of the cheese mixture over the ladyfingers, and 2 more ladyfingers on top. Pour the remaining coffee mixture over the ladyfingers, and top each portion with the remaining cheese mixture. Sprinkle a pinch of chocolate shavings over each cup. Cover with plastic wrap and refrigerate for at least 3 hours. May be made 24 hours in advance.
Uncover tiramisu cups and serve chilled.
Mussels with Fennel, Tomato and Saffron
1 tablespoon olive oil
2 cloves garlic, minced fine
1 small fennel bulb, cleaned and cut into 8 wedges
1 1/2 cups white wine
16 fresh mussels, with firmly closed shells, any variety
1 pinch saffron (powdered or crushed thread)
Coarse salt and freshly ground black pepper to taste
1 whole plum tomato, diced
In a stockpot, heat olive oil. Add garlic and fennel, saute until cooked soft. Add white wine, saffron, salt and pepper. Bring to a boil. Add mussels to white wine broth and cook until they just start to open, approximately 5 minutes.
Add diced plum tomatoes and cover pot until mussels are completely open, for approximately 3 more minutes. Serve immediately in a bowl with broth with an additional empty bowl for discarded shells.
Source for recipes: "The Seduction Cookbook: Culinary Creations for Lovers," Diane Brown, (Innova Publishing, New York, Feb. 2005) $14.95.
Copyright 2017 The Lawrence Journal-World. All rights reserved. This material may not be published, broadcast, rewritten or redistributed. We strive to uphold our values for every story published.