With an eye toward educating home-school students wherever they're found, Lawrence Virtual School officials have begun a statewide recruiting drive.
Gary Lewis, the online school's principal, is traveling across Kansas to conduct a four-month series of 40 open houses in Colby, Coffeyville, Wichita and other Kansas cities.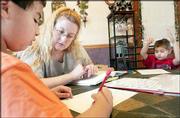 The aim is to explain virtual schooling and clear up any myths. "I want to make it very clear," Lewis said. "You're not just going to be put your child at a computer and say, 'Here's school.'"
The state provides a minimum $3,863 to the district for each full-time virtual school student -- the same it pays to educate a student in a traditional school from within the district's boundaries.
Lewis said he talked recently with officials from another district that wanted to start a virtual school as a magnet for the state aid that follows each student enrolled in a district.
"I think hopefully I've deterred them," Lewis said, declining to identify the district. "We didn't start a virtual school to make a profit."
But the state aid would be essential to maintain the virtual school once its three-year, $318,000 federal grant to open the school is played out.
Pupils statewide
In its first year, Lawrence Virtual School has attracted 144 students and has already found pupils in Paola, Manhattan, Kansas City and Wichita.
The state has about a dozen virtual schools, officials said. The largest and oldest is the Basehor-Linwood Virtual School, which has about 350 students.
The Lawrence Virtual School offers courses for students in kindergarten through eighth grade. But the district is expected to add grades nine through 12 in the coming year.
Offices, and classrooms for parents who want to use them, are at the former Centennial School.
Students in the virtual school, who mostly work from home, are provided a computer to stay in touch with teachers but also use traditional materials such as books, worksheets and art supplies. Parents also must have regular parent-teacher conferences, whether by phone, in person or by e-mail.
Julie Meyer, of Lawrence, said the virtual school was allowing her two sons to work at their own pace, unlike a traditional school.
Lawrence Virtual School has open houses scheduled in northeast Kansas to recruit new students. Each meeting will last up to an hour.LawrenceMarch 8 at 4 p.m. and 7 p.m.April 7 at 9 a.m. and 11:30 a.m.May 10 at 4 p.m. and 7 p.m.Lawrence Virtual School2145 La.OlatheApril 4 at 10:30 a.m. and 1 p.m.Olathe Public Library12990 S. Black Bob RoadOverland ParkMarch 1 at 4 p.m. and 7 p.m.May 3 at 4 p.m. and 7 p.m.Central Resource Library9875 W. 87th St.TopekaApril 25 at 10 a.m.Topeka and Shawnee County Library1515 S.W. 10th Ave.For more information, contact:Lawrence Virtual School832-5620http://www.usd497.org/ schools/virtual/index.cfm
"They're not having to wait for the other kids in the classroom to get done with their work," she said. "It makes it a lot more fun to them not to have to sit and wait."
Competition?
Lewis said he couldn't estimate how many students the school would have next year. The school gets five to 10 requests a day for information, he said.
Despite Lewis' statewide travels, Kansas officials said they weren't concerned that Lawrence would poach students and funding from other districts. Dale Dennis, the state's deputy education commissioner, said most parents preferred their children to be in a traditional classroom with other children.
And it's difficult to know whether Lawrence Virtual School is more cost-efficient that traditional brick-and-mortar schools. Its $750,000 budget sits between the $670,000 budget at New York School and the $830,000 budget at Cordley School, which have similar enrollment numbers.
But New York and Cordley have higher overhead costs, educate fewer grades and have different programs than the virtual school.
Despite the apparent cash advantage to virtual schooling, Lewis again emphasized that profit wasn't a motive for the district.
"It's about providing quality education," he said. "It appalls me that people come in saying, 'We'll start a virtual school so we can save money and we can make money.'"
The Lawrence Virtual School has 144 students from across the state, including Paola, Manhattan, Kansas City and Wichita.The school's parent group plans special activities for Thursday afternoons, such as music, science and basketball. Some students also take field trips together.Students travel to Wichita, Topeka, Manhattan, Lawrence or Johnson County to take their state tests.The school charged $43.50 in fees this school year per kindergarten student and $97 for each student in first through eighth grades.The school loans each family a computer with a printer. Families also get a curriculum, including workbooks, art supplies and maps.The school will get $106,000 a year for three years through a federal grant. Principal Gary Lewis said he hoped after that the school would attract enough students to support itself on state aid money.The school accepts applications from any student but will reject them if officials deem the school inappropriate for the student's needs.For example, the school would not work for a western Kansas child who needed several hours a day in a special education class, Lewis said.
Copyright 2018 The Lawrence Journal-World. All rights reserved. This material may not be published, broadcast, rewritten or redistributed. We strive to uphold our values for every story published.