I can't imagine living anywhere other than in Lawrence, Kansas.
Among the things that keep me here, two stand out: The intense creative drive that such a high percentage of people here share, and the down-to-earth ease that people tend to assume with others, even complete strangers. In other cities and towns I know well, these characteristics seem somewhat mutually exclusive.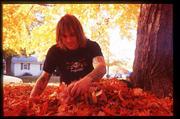 I'm also blessed to have a job here that allows me to spend time with such people. These are a few of the photos that have resulted from those encounters. Most were taken for lawrence.com with an Olympus C-3040 digital camera, an inexpensive godsend for hobbyist photographers.
Copyright 2018 The Lawrence Journal-World. All rights reserved. This material may not be published, broadcast, rewritten or redistributed. We strive to uphold our values for every story published.