Members of St. Luke AME Church came together Saturday morning to celebrate the birthday of author and poet James Langston Hughes, as well as their church's place in history.
The event also served as a kickoff for a new fund-raising effort to refurbish the nearly 100-year-old church and to get it on the National Register of Historic Places. Such a designation will help the church at 900 N.Y. obtain funds for the refurbishment.
"It is our hope that we can completely restore the church," said the Rev. Verdell Taylor, St. Luke's pastor. "They are lofty goals. We'd like to take it back to its magnificence of 1910."
About 60 people attended Saturday's event, which included breakfast and a program about the church history and connection to Hughes, who attended the church services with his "Auntie Reed." Hughes was born Feb. 1, 1902. He died May 22, 1967.
Church leaders are working with the Kansas State Historical Society in the filing of application papers for the national historic designation process. It could be several months, however, before the result of the effort is known.
"I feel like it is going to get done," said Napoleon Crews, a church member who worked on the application process.
In the meantime, the church also wants to have a feasibility study conducted to determine what has to be done to restore the church and how much it will cost. The study alone could cost about $25,000, Taylor said.
Needed repairs are considerable, said church member Theodore McVay, who helps maintain the current building. Maintenance problems include cracks because the building is settling and water leaks, to mention a few, McVay said.
"We need all the help we can get," McVay said. "There is a lot of work that needs to be done. You can just walk around the building and see things.'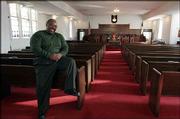 McVay also thinks the building needs to be saved because of its history. Bill Tuttle, a Kansas University American history professor who attended Saturday's breakfast, agreed.
Not only is there a historical tie to Hughes, but also to many other prominent black families who were involved in the church, Tuttle said. Included were some who rode with abolitionist John Brown when he attacked Harper's Ferry, and David Harvey and Rebecca Brooks Harvey, who left slavery in the South to become prominent landowners in Douglas County and whose sons became Kansas University athletes, Tuttle said.
"I think what makes this church so important are the people who have been here," Tuttle said.
The church hopes to have various fund-raisers through the year, including a possible jazz music event, Taylor and Crews said.
"Nothing has been set right now," Crews said.
The church congregation was formed in 1862, and the current building was constructed in 1910. Its current membership is 135 people, and its average Sunday attendance is 50 people, Taylor said.
Copyright 2018 The Lawrence Journal-World. All rights reserved. This material may not be published, broadcast, rewritten or redistributed. We strive to uphold our values for every story published.