As a girl in Shanghai, China, Nancy Bjorge kept her fingers busy folding tiny paper boats. The shapes signified ingots, she says, and her grandmother pressed her to produce them by the hundreds.
Periodically, the family would assemble the imaginary gold and silver bars and a tableful of food as an offering of respect to their ancestors.
Afterward, they burned Bjorge's creations in a bucket.
"It was kind of like a prayer to ask them (our ancestors) to protect us, to send us more good things for this world," she recalls.
When the ceremony ended, Bjorge always got back to work. The nimble-fingered pursuit was her first brush with origami, the art of paper folding. Back then it seemed like an adventure, amassing a hoard of make-believe treasure for her family's religious rituals. Today it's Bjorge's art form, a vehicle for her creative impulse and a soothing way to pass the time.
"It is very meditative for me," says Bjorge, a 65-year-old Lawrence real estate agent. "A lot of my pieces have repeated forms. I take little pieces of paper and fold and fold without much thinking. It's very calming."
When she has accumulated enough shapes, Bjorge begins attaching them together to form sculptures and wall hangings. Like many contemporary origami artists, she has shown work in galleries both nationally and internationally.
Still, the vast majority of people -- even in Japan, the country that embraces origami with a sort of nationalist pride -- consider it to be "kid's stuff," says Jan Polish, a board member with New York-based OrigamiUSA.
"It IS something that children do," she says on the phone from the organization's headquarters, "but it's gone way beyond that. When somebody presents it as an art form, it's like 'What?' But in reality, if you look at some of the amazing work that's done, it's mostly being done by artists who just discovered that paper's the medium they like most."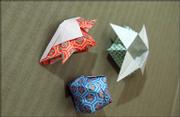 Paper mascot
Despite the complex and sometimes-abstract heights origami has reached, it's still best known internationally for a centuries-old form: the crane. You might say it's the origami mascot.
People worldwide send strings of a thousand cranes to the Children's Peace Monument in Hiroshima, Japan, each year, where a statue stands to remember a little girl who died of leukemia as a result of exposure to the atomic bomb the United States dropped on the city in 1945. The girl folded as many paper cranes as she could before she succumbed to the disease, and supporters have continued her quest.
Francis Lemery, president of the Japan America Society in Kansas City, visited the site last year and saw an area where hundreds of thousands of handmade cranes were hanging.
"It's very, very moving," he says.
Although origami is most closely associated with Japan (the name comes from the Japanese words "oru," which means to fold, and "kami," which means paper), it originated in China, perhaps as early as the first or second century. But Japan perfected the art form, Lemery says.
"When Japan was an isolated country -- by their own initiative for many years in the 16, 17 and 1800s -- they developed many forms of art," Lemery says. "Some of the ideas were stolen from elsewhere, but man, they took it and just raised it to a much higher level."
Early on, paper was still rare enough that origami was something of an elite hobby, and folded shapes tended to be used for ceremonial occasions, such as weddings. But by the mid-19th century, the art form had gained popularity among the common people.
Today, there are origami artists working in countries around the world. OrigamiUSA has just under 2,000 members, and countless Internet sites and how-to books make the art accessible to just about anyone.
A pair of renowned origami artists from Tokyo will give two workshops Tuesday at the Lawrence Arts Center, 940 N.H.The first, from 4 p.m. to 5 p.m., is for children in grades three through six. The second, from 6 p.m. to 8 p.m., is for people ages 13 and up. The workshops are free, but space is limited. Call 843-2787 to reserve a spot. The artists are:¢ Marumi Kurumadani, a staff member of the Nippon Origami Assn. She has attended origami conventions and given demonstrations and lectures around the world.¢ Yuko Tsurumi, a member an instructor with the Nippon Origami Assn. Her work has appeared in many publications; her recent focus has been origami for children and people with disabilities.The visit is a project of the Japan Foundation, which sponsors cultural exchanges to increase understanding of Japanese culture in countries around the world. It is made possible by the Lawrence Arts Center, the Consulate General of Japan and the Japanese America Society of Kansas City.
'It's the magic'
Andrew Tsubaki, a retired professor who taught Asian theater at Kansas University for 31 years, grew up in Tokyo. He remembers folding paper helmets that resembled head gear worn by samurai. He and his friends would don their self-made hats, grab toy swords and play warrior games for hours on end.
"It's a very easy way to become a samurai," he says, smiling. "So it's stimulation for the imagination."
Japanese children start learning origami in kindergarten, he says. With all its precise folds and chronological steps, it helps youngsters develop dexterity and discipline. And there's an instant reward: a toy.
Artists such as Bjorge, Robert Lang, Michael LaFosse and Joseph Wu have taken origami far beyond child's play. Astoundingly, many of their creations -- no matter how complex and realistic -- start from a single, flat sheet of square paper.
Bjorge is more likely to use hundreds of sheets of paper for her wall hangings, some of which measure more than 45 inches square. She often incorporates stitchwork, glue, cloth and foil.
"It's away from the traditional but still has the essence of using a two-dimensional sheet of paper and changing it to a three-dimensional form," she says.
That transformation has applications outside the art world as well. Origami is used as a therapeutic tool for people with disabilities. It's also used to teach mathematical principles and self-expression in language arts. Besides being an origami artist, Lang is also a scientist. He has worked with NASA on the best way to fold mirrors on giant telescopes so they can be transported into space, Polish says.
It's little wonder origami has captivated imaginations for centuries.
"I think for me, as with so many people who get involved with origami, it's the magic. This has become almost a cliche for us, but it's still so true," Polish says. "It's the magic that you find in that single square of paper, turning it into something amazing. Even if it is a simple swan or sailboat.
"No matter what it is, it's magic."
Copyright 2018 The Lawrence Journal-World. All rights reserved. This material may not be published, broadcast, rewritten or redistributed. We strive to uphold our values for every story published.