Alice Ann would have loved it.
That's what folks who knew Alice Ann Callahan Russell are saying about Sunday's 17th annual Chocolate Auction, a fund-raiser for the Baldwin Community Arts Council.
This year's event -- a utopia for lovers of all things chocolate -- is being billed as a celebration in memory of Russell, who founded the auction and was a major supporter of the arts in Baldwin.
Russell, who taught piano, music theory and other courses in the fine arts department at Baker University for about 35 years, died in April 2004 at age 78.
"We were very surprised. It's a great honor for this to be done for Alice, and she would have loved it," says Mary Jane Chubb, 76.
Chubb and the youngest sister of the trio, Charlene Potter, 71, are longtime participants in the Chocolate Auction; they always bring various homemade treats to the event.
Russell is credited as the founder of the chocolate auction.
"She had gone to visit one of (her husband, Tom Russell's) kids and went to a chocolate auction," Chubb says. "She thought it was a really great idea to try here. It started small, but it just took off."
This year -- the first time the auction will be held without Russell -- Chubb and Potter will be carrying on in their sister's memory.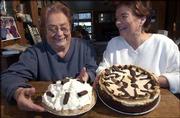 "Alice's big specialty (to contribute to the fund-raiser) was cream puffs and Rocky Road chocolate cake. We're going to try to bring what Alice brought. I'm not sure my cream puffs are up to hers, but I'm going to try," says Chubb, a retired Baldwin High School teacher.
"Alice Ann was the greatest big sister you could ever have," Potter says. "She made you feel like you were so special. She'd just think this (fund-raiser in her memory) is fantastic."
The Chocolate Auction is from 1 p.m. to 4 p.m. Sunday in the Baldwin High School commons area. It will feature silent and live auctions of homemade sweets, as well as original work donated for the event by Baldwin-area artists.
There will be about 200 items to bid on. The event typically raises nearly $4,000 each year to support a variety of art projects and programs in the community.
Many artists participate
Russell, who was married for 25 years to Tom Russell, a regionally known Baldwin artist, deserves to be celebrated at the Chocolate Auction, according to Christy Carlisle, president of the Baldwin Community Arts Council.
The 17th annual Chocolate Auction, a fund-raiser for the Baldwin Community Arts Council, will be from 1 p.m. to 4 p.m. Sunday in the Baldwin High School commons area.The event, which will offer live and silent auctions, featuring homemade chocolate sweets and artworks donated by area artists.Suggested donation to attend is $1 (includes refreshments).
"That's who Alice Ann was -- the absolute example of promoting art, artists and teaching in the Baldwin community. She gave her all," Carlisle says.
"She was a mentor. I looked up to her. If I could do half of what she did (for the arts), I'd be doing good."
The auction has turned into a major Baldwin event. This year, 50 to 60 artists who live in the area are donating their work. Tom Russell has contributed many of his works in the past.
Some of the artists who will have their artwork in the auction are: Evonne English (abstract watercolors); Tracy Harrison (photography); Carlisle (mixed media); Forrest Waltman (stone carving); Inge Balch (pottery); Rick Daugherty (photography); and Edward Robison III (photography).
"Most of these people are regionally or nationally known -- some internationally. Everything (they donate) gets auctioned. To be honest, it's a really good deal," Carlisle says.
Some Baldwin businesses also donate items for the auction, such as gift certificates.
Known as 'Pie Lady'
For the auction, Chubb is baking four kinds of pie: chocolate, topped with whipped cream and chocolate curls; chocolate meringue; French silk; and chocolate pecan. She'll also bring the cream puffs.
Potter, meanwhile, is baking a Rocky Road chocolate cake, a six-layer chocolate torte and a chocolate cheesecake.
It's a labor of love, the sisters say.
Chubb's pies enjoy a fine reputation and are a sought-after item at the auction, according to Carlisle.
"She's known as the Pie Lady, and people flock to buy them. Last year, two of her pies brought in $150. They don't mess around with those pies. I bought a flourless chocolate torte for $40," she says.
Chubb and Potter used to sell their baked goods at the Lawrence Farmers Market. Now Chubb provides her pies to the Black Jack Diner on U.S. Highway 56 near Baldwin.
Her trademark is Bumblebee Pie, which has a filling with five kinds of fruit mixed together: blueberry, strawberry, raspberry, apple and rhubarb.
"People like it real well. I got the idea from a magazine one time," Chubb says.
She's happy to contribute her chocolate pies and other goodies to the auction.
"Baldwin's a small community, and when you have activities like this, you feel like you have a responsibility to take part in them," she says.
Copyright 2018 The Lawrence Journal-World. All rights reserved. This material may not be published, broadcast, rewritten or redistributed. We strive to uphold our values for every story published.