Dacia Sprow wasn't perfect Thursday at Royal Crest Lanes, but she was tantalizingly close.
Sprow opened Free State High's bowling match against Olathe North with 11 straight strikes. Just 10 pins from perfection, the FSHS senior had attracted a nice crowd before she rolled her 12th and final ball.
"I've never had a 300 game," she said, "so it was an adrenaline rush."
Sprow knew the second the last ball left her hand that she would have to wait a little bit longer for her first perfect game.
"I didn't hit my mark at all," she said. "I wasn't surprised at all. It wasn't a good ball."
Sprow's last ball knocked down nine pins, giving her a 299.
"That's special," said Free State coach Chuck Tracy, whose team improved to 5-1 by defeating Olathe North, 2,160-1,585. "I don't know about you, but I was scared watching her throw that last ball. That was fun to watch -- phenomenal."
Sprow rolled a 194 in her second game. Her only open frame of the day came in the 10th when she left the eight pin.
"That was disappointing for me because that was an easy one," she said.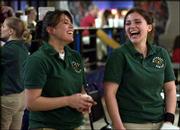 Sprow, who carries a 202 average, had a 493 total going into the third game, leaving her within striking distance of her first 700 series. She finished things out with a 216 for a 709.
"I checked before the last game to see what I needed to get," she said. "After I didn't get the 300, it was my goal to get 700."
Sprow's 709 was the highest three-game total Thursday for any bowler -- boy or girl. Free State senior Rich Altman had his two best scores of the year -- 256 and 247 -- on his way to a 663 total. Mike Herschel had the high game for the Firebirds with a season-best 276 and finished with a 643, two pins behind teammate Scot Lange. Nathan Hardman also counted for the Firebirds at 620.
Free State's boys (6-0) cruised past Olathe North, 2,571-2,243.
Altman, who averages 206, said the Firebirds get better with each competition.
"You can see it in our scores," he said. "They're getting higher and higher. We're all making steady improvement."
Dequesne Sprow (515), Christina Bernhardt (481) and Lindsay Vannicola (455) also counted for Free State's girls.
Copyright 2018 The Lawrence Journal-World. All rights reserved. This material may not be published, broadcast, rewritten or redistributed. We strive to uphold our values for every story published.