Lemuel Sheppard doesn't just tell people about history. He lives it for them.
"When we think about history, we think about dead guys," Sheppard said Thursday. "I really like bringing people back to life. "
That's how Sheppard ended up Thursday at Langston Hughes School, enacting the story of York, a slave who explored the western United States with Lewis and Clark 200 years ago.
Sheppard told stories and sang songs during his performance, part of Black History Month observances at the school.
"He's a Kansas treasure," said Paula Pepin, a Langston Hughes parent who helped bring Sheppard to the school.
Sheppard, a Pittsburg resident, has performed across the United States, and in Brazil and South Africa. His Thursday visit to Lawrence was sponsored by a $500 grant from the Lawrence Arts Commission.
His concert Thursday included antislavery songs, blues and a musical adaptation of Langston Hughes' poem "The Negro Speaks of Rivers."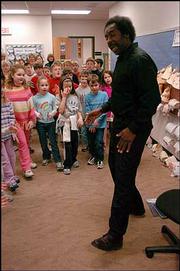 York was William Clark's childhood companion and slave. Not much is known about York, Sheppard told the students. About 50 people traveled in Meriwether Lewis and Clark's expedition, he said, and most scholars believe York was one of the few who could swim.
Clark set York free 10 years after the trip ended. Historians believe York eventually went west and became a leader in the Crow tribe, he said. A trapper reported meeting a black man named York in 1832 who was leading a group of Crow warriors into battle.
Black History Month often focuses on the history of Africa at the expense of history of blacks in the United States, Sheppard said after the performance.
"(Children) get inundated with the ancient heritage," he said.
"Anywhere in the world, you see a black-skinned person and you know (Africa's) their ancient heritage," Sheppard said. "We share that with people all over the world. What we don't share with people all over the world is this American, unique heritage."
Black History Month began as "Negro History Week" in 1926. February was the month Abraham Lincoln was born, the NAACP was founded and U.S. Constitution's 15th Amendment -- guaranteeing blacks the right to vote -- was ratified.
Other Black History Month events in Lawrence include:Monday: Trivia contest sponsored by Kansas University's Black Student Union, 8 p.m., Gridiron Room, Burge Union.Feb. 23: Information on registering to be a bone-marrow donor, 9 a.m. to 3 p.m., fourth-floor lobby, Kansas Union.Feb. 23: Gospel concert, 7:30 p.m., Woodruff Auditorium, Kansas Union.Feb. 24: Hip-hop and African dance lessons, 6 p.m., Robinson Health & Physical Education Center, KU.Feb. 25: Open-mic night for poets, writers and singers, 9 p.m., Hawk's Nest, Kansas Union.
Copyright 2018 The Lawrence Journal-World. All rights reserved. This material may not be published, broadcast, rewritten or redistributed. We strive to uphold our values for every story published.