Louis Comfort Tiffany is best known for his stained-glass windows and lamps with leaded glass shades, but his companies made many other important decorative items.
Tiffany's iridescent glass vases, pottery, enamel work, silver pieces and jewelry, all first made about 1900, were extraordinary examples of design and craftsmanship. Tiffany Studios also made many commercial desk sets, candlesticks, inkstands, boxes, picture frames and even small, bronze paperweights shaped like animals. It produced more than 15 different patterns of desk sets. A set had at least nine pieces: blotter ends, inkstand, pen tray, paper rack, paper knife, rocker blotter, memo-pad holder, stamp box and calendar.
Also available were other matching pieces such as bookends, paperweights, lamps, thermometers, scales and even reading glasses. Today any single piece of a Tiffany desk set is worth hundreds of dollars. Look carefully at bronze and glass pieces that might be by Tiffany. Almost every piece is marked. Several other companies made similar pieces that were not marked.
Q: An elderly neighbor gave my daughter an old cast-stone garden armchair. The chair is 3 feet tall. The front and seat are plain and weather-worn, but the rounded back is decorated with a raised image of a winged male figure surrounded by swirls and leaves. There is an illegible mark or emblem under the seat at the front of the chair. Can you tell us anything?
A: Even if the maker of your cast-stone (molded, not carved) chair cannot be determined, it is a nice garden seat. It probably dates from the turn of the 20th century or a little earlier. Chairs like it sell for $300 to $500.
Q: We have a framed, 3-D, carved-cork picture of a castle. The cork is intricately carved and mounted on a piece of blue silk. The picture is 7 1/2 inches high by 9 inches wide. The frame around it surrounds a box that's about 3 inches deep. We cannot find any marks on it except "188?" -- perhaps that's a date. The picture was given to my family in the 1930s.
A: Carved-cork pictures of Chinese landscapes are more common than scenes of European castles. In fact, Chinese artists continue to produce carved-cork dioramas. But during the mid- to late 1800s, English and other European artists produced carved-cork scenes. The earliest were mounted on blue silk, as yours is. Many were sold as souvenirs, so your castle probably represents a real castle -- most likely an English castle. We've seen 19th-century carvings about the size of yours priced at about $50.
Q: My grandparents left me two decorative pieces of porcelain, a plate and an ewer, marked "Fischer Budapest," with a tiny mark between those two words. Can you identify the mark and when it was used?
A: Your decorative porcelain was made by Fischer of Budapest, a firm that was in business in Hungary during the second half of the 19th century. Pieces are similar to those made by Zsolnay and Herend, two other Hungarian manufacturers of decorative ceramics. Fischer of Budapest was founded by Ignac Fischer, who trained at Herend before opening his own company in the 1860s.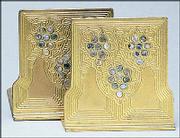 Q: Can you give me any information about my late mother's Charles Lindbergh tapestry? It is 52 inches long by 20 inches high and pictures Lindbergh in the center, the skylines of New York City and Paris, and three images of the Spirit of St. Louis, Lindbergh's airplane.
A: You have a souvenir of Lindbergh's famous 1927 trans-Atlantic flight. It is one of at least four styles of Lindbergh tapestries. Collectors today should not underestimate the public's excitement about Lindbergh's accomplishment -- and the number of collectible souvenirs sold during the first few years afterward. Your souvenir is not rare, but take care of it by keeping it out of the light and away from bugs. Today it would sell for $50 to $100.
Q: I'd like to buy a dollhouse from the 1940s or '50s. What should I look for?
A: You can shop for a tin-lithographed dollhouse made by Marx, Ohio Art or another U.S. company. This type of dollhouse was common by the early 1950s. Or you can pay a little more for a 1940s Keystone dollhouse constructed of wood, plywood and pressboard. A Keystone house in excellent condition can cost close to $200 or more, but Keystone made high-quality dollhouses wired with electric lights.
Q: I have a souvenir pencil box from the World's Columbian Exposition. There's a color lithograph of a fair building on the top. What is it worth?
A: The World's Fair known as the Columbian Exposition was held in Chicago in 1892-1893 to celebrate the 400th anniversary of Columbus' first voyage to the New World. Your pencil box is one of the catalogued souvenirs from that fair, but it is not one of the rarest or most collectible. If it's in excellent shape, it would sell for $20 to $25.
Current prices are recorded from antiques shows, flea markets, sales and auctions throughout the United States. Prices vary in different locations because of local economic conditions."The Waltons" paper-doll book, with 7 Walton children, outfits, 1975, Whitman, 8 pages, $55.Political button, "Cleveland Needs Ness for Mayor," red-and-white celluloid, 1947, 7/8 inches, $160.Wicker stroller, Withrow Manufacturing Co., Cincinnati, Ohio, 1902, $400.Gouda Pottery vase, blue, purple flowers, pink dots on ivory ground, 1925, 12 inches, $455.Edward Vom Hofe fishing reel, Universal Star Model 621, hard-rubber reel, 1902, $530.Snow White and Seven Dwarfs glass set, character decal on front, Walt Disney copyright, 1938, 4 inches, set of 8, $1,200.Hires Root Beer sign, boy, "Say Hires," tin, self-framed, oval, 1907, 20 x 24 inches, $2,345.Bakelite pin, butterscotch giraffe with brown leather spots, 4 inches, $2,550.
Copyright 2018 The Lawrence Journal-World. All rights reserved. This material may not be published, broadcast, rewritten or redistributed. We strive to uphold our values for every story published.