Kalmunai, Sri Lanka — "Give us our baby!" a distraught Sri Lankan mother cried Wednesday after a judge kept her from the 4-month-old boy she says was torn from her arms in Asia's tsunami.
In the disaster zone's most heart-wrenching custody case, a court ordered Jenita Jeyarajah and her husband to undergo a DNA test to prove they are the parents of the child known as "Baby 81," triggering a melee at a hospital that led to the would-be parents' arrests.
The couple had hoped to take custody of the child at Wednesday's hearing, and became inconsolable when told he would be put back into hospital care until at least April 20 -- the next available date on the court calendar when the judge will hear the DNA results.
Jenita Jeyarajah beat her chest and shouted she couldn't be away from her child that long. Then, accompanied by dozens of relatives and friends, she and her husband, Murugupillai, marched a half-mile to the hospital where the baby has been kept since the Dec. 26 disaster and forced their way into the pediatric ward.
"Here is my baby -- look, look!" the 25-year-old woman screamed. "Please give us our baby!" she pleaded before dropping to her knees at the feet of the head nurse and begging to take the child home.
The couple and two supporters were arrested and briefly held by police, then released and ordered to appear at a hearing today.
Besides the Jeyarajahs, eight other women have stepped forward to claim the boy, called Baby 81 because he was the 81st admission to the hospital the day the tsunami hit. The Jeyarajahs, however, are the only couple to file a formal custody claim. They say records proving they are the parents of the child were lost in the tsunami.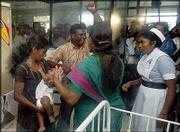 The couple and the baby will have to travel eight hours to the capital, Colombo, for the DNA test. Results will be available in less than a day.
Harendra de Silva, head of the government's National Child Protection Authority, said the authority was willing to conduct the tests -- which could cost as much as $100 -- for free. UNICEF also has offered to pay for the test.
Copyright 2018 The Associated Press. All rights reserved. This material may not be published, broadcast, rewritten or redistributed. We strive to uphold our values for every story published.