Valentine's Day is near, and you know what that means: chocolate, chocolate everywhere. In heart-shaped boxes. With caramel filling. Dark. Milky. Square. Round. In grocery stores, pharmacies -- even hardware stores.
But in the garden?
You bet.
And the best part is planting a bed full of blooms that look and smell like chocolate is a guilt-free endeavor because, after all, gardening burns calories and builds muscle.
But before I get to the plants that might inhabit a chocolate lover's garden, more about our fascination with the decadent treat.
According to John O'Hara, vice president of marketing for Russell Stover, more than 35 million chocolate valentine heart boxes will be sold this Valentine's Day alone. That's a staggering figure in a society that fancies itself low-carb, sugar-free and calorie-conscious.
But, as O'Hara explains, "Chocolate is a luxurious treat and not something we generally purchase for ourselves. Valentine's Day is like a free pass to indulge our sweet tooth once a year."
The history of chocolate dates back thousands of years to the Olmec, Mayan and Aztec civilizations, which used the cocoa plant to relieve anxiety, fever and fatigue, says Todd Buss, a marketing manager at Russell Stover. Chocolate's medicinal use in Europe can be traced back more than 500 years, when it was first brought over from the Americas. Europeans used chocolate to treat, among other things, anemia, emaciation, kidney stones, and cuts and burns.
Today, cocoa trees are grown in tropical countries all over the world. Recent research has confirmed, according to livingrainforest.org, that chocolate can be beneficial to one's health. Chocolate is rich in plant chemicals such as polyphenols, the same chemical found in red wine. Its antioxidant effects have been shown to help protect against heart disease and cancer and generally improve the immune system. The darker the chocolate, the more anti-oxidants it contains.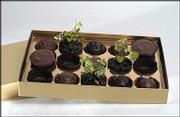 So when did chocolate and Valentine's Day unite in such a sweet marriage? According to Buss, "The Mayans used chocolate as an aphrodisiac. Since then, love and the sweet taste of chocolate have just gone hand and hand. And in the United States, chocolate has been exchanged as Valentine's gifts for over 100 years."
Why not bring all that sweetness and passion to the garden? Here's a list of plants that will get your blood sugar boiling:
Chocolate cosmos: a hardy perennial with fudgy brown flowers.
Berlandieva Iytata: a chocolate-colored daisy which is a perennial and will reseed itself.

Chocolate mint: Enjoy an herbal treat with this mint that is fabulous in tea or to eat right out of the garden. Like all mints, it is invasive so is best in beds or containers.
Geraniums pelargonium: a chocolate peppermint variety of geranium. The leaves smell of peppermint with a chocolate center. It grows quite quickly.
Akebia quinata (chocolate vine): a vine with cocoa blossoms that smells of vanilla. This plant climbs easily and is hardy to zone 5. It makes a great entrance to a chocolate garden draped over an arbor to greet guests.
Chocolate Beauty sweet bell pepper: chocolate-colored and, of course, edible.
Chocolate coral bells: large, dark chocolate-colored leaves.
Chocolate Soldier columbine: chocolate purple petals.
Chocolate-leaf snakeroot: Related to Joe Pye weed, this plant has white flowers, chocolate foliage and purple stems.
Sweet shrub: has a bittersweet chocolate scent in purple-brown color.
Sweet sultan: has the scent and color of chocolate.

Theobroma cacao (chocolate nut tree): a small evergreen.
Midnight Candy phlox: produces scented flowers in white and maroon.
Chocolate lily: This lily has a chocolate scent with pink blooms. Imagine a cut bouquet sweetly scenting the home.
Chocolate bromeliad: a tropical plant.
Chocolate flowering cherry: This tree's leaves are milk chocolate with white flowers that turn pink. The leaves then turn red in autumn.
Chocolate foxgloves: bears small, chocolate-colored flowers.
So if you're looking for an alternative to the same old Valentine's Day treats, try surprising your sweetie with a few of these plants to start a chocolate lover's garden. But always remember, a heart-shaped box of the real thing is an excellent reward for toiling in the garden.

Plant sources: pioneerthinking.com, web.holidays.com
Copyright 2018 The Lawrence Journal-World. All rights reserved. This material may not be published, broadcast, rewritten or redistributed. We strive to uphold our values for every story published.