JACKSONVILLE, FLA. — Andy Reid and Bill Belichick have almost nothing in common. And yet Andy Reid and Bill Belichick have almost everything in common.
When Reid's Eagles and Belichick's Patriots meet in Sunday's Super Bowl, the similarities will be much more important: Both teams are as well-constructed and well-meshed as possible in an era when free agency and the salary cap force annual changes.
It's all in the team philosophy, a concept easily preached, less easily followed.
"We understand that no one guy on the team is bigger than anyone else," Corey Simon of the Eagles said this week, a couple of hours before New England's Deion Branch said: "No one cares about individual glory. We're a team, not a collection of individuals."
That applies even to players who don't fit the mold, like Corey Dillon of the Patriots, a malcontent in Cincinnati who has thrived in New England, and the Eagles' Terrell Owens, who Tuesday declared he would play Sunday after being out since Dec. 19 because of a severe ankle injury.
Yes, Owens is a showboat who calls attention to himself even when he's only prancing on the sideline. But he wanted to leave a declining team in San Francisco because he wanted to win, which is what the Eagles do: 56-25 in the last five seasons.
In one way, Owens' injury demonstrates the team concept preached by both coaches.
The Eagles won both their playoff games without Owens, and the Patriots went the second half of the season without their starting cornerbacks, using undrafted rookie Randall Gay and second-year man Asante Samuel as starters and wide receiver Troy Brown as nickel back. Belichick was rewarded for his faith when Brown had three interceptions. Again, the team approach working in New England -- and Philadelphia.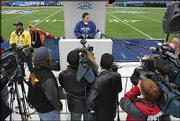 "T.O. is a piece of the puzzle, not the entire puzzle," Simon said.
If their outlooks are similar, the backgrounds of the two coaches are polar opposites.
Belichick, son of a career assistant coach at Navy, is Eastern elite. He attended the exclusive Phillips Andover Academy (the alma mater of, among others, the late baseball commissioner Bart Giamatti, Humphrey Bogart, Dr. Benjamin Spock and both President Bushes). Then it was on to academically challenging Wesleyan University in Connecticut, where he was a 160-pound center and tight end.
Reid is a member of the Glendale Junior College Hall of Fame and an offensive lineman at Brigham Young on teams quarterbacked by Jim McMahon. The last time he saw 160 pounds was probably when he was 10 years old. At well over 300 these days, he ridicules himself with fat-guy jokes.
Copyright 2018 The Associated Press. All rights reserved. This material may not be published, broadcast, rewritten or redistributed. We strive to uphold our values for every story published.