Seabury Academy's boys basketball team defeated Kansas School for the Deaf, 45-42, Tuesday night in regulation, but Seahawks coach Marcus Heckman worked overtime.
"I was trying to pump the kids up all day, telling them I needed to go 3-0," Heckman said. "They delivered."
Heckman started the afternoon by coaching Seabury's junior varsity boys to a 26-19 victory. Then he filled in for the first half of the Seabury girls game because coach Nick Taylor was on the way back from a funeral in Salina.
Taylor arrived just in time to see his Seahawks take a 21-5 lead into the locker room, then finished off a 50-16 victory.
"Coach Heckman took it for a while and did a really good job," said Taylor, whose assistant coach resigned earlier in the season. "I really appreciate him helping us out. That made life a lot easier."
Seabury's boys had a harder time with KSD. The Jackrabbits had won four of the last six meetings with the Seahawks, including two this season. But Seabury played those first two games without junior guard Adam Davis, who missed eight games while recovering from a torn anterior cruciate ligament in his right knee.
Davis scored 15 points Tuesday, including a pair of free throws with 28 seconds left that put his team up by three points. The Seahawks (4-10) improved to 3-3 with Davis in the lineup.
"It's a big win for us," Davis said. "It's great for our morale. It shows how far we've come this year. They're a good team."
Seabury was down by nine points before Grayson Dillon scored five of his team-high 16 points in the final 3:51 of the third quarter. He capped a 12-3 run that tied the game at 31 after three quarters.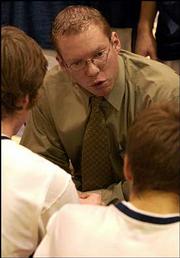 KSD pulled away again, opening the fourth quarter with a 10-0 run that Justin Brown's fourth three-pointer. Heckman mixed up his defense, switching from zone to man and then to a box-and-one on Brown, who finished with 13 points.
Seabury closed with a 14-1 run with all 14 points coming from Davis and Dillon. KSD turned the ball over on its final three possessions.
Seabury girls 50, KSD 16
Adapting to a Heckman was no big deal for the Seahawks, who bolted to an 11-0 lead and defeated the Jackrabbits for the third time this season.
"He was really positive and got us pumped up," said Laura Frizell, who led the Seahawks with 19 points and 13 rebounds. "It was really nice of him to step in for us."
Linaya Newstrom added 10 points for the Seahawks (6-7), who have won three of their last four and eclipsed their victory total for the previous two seasons combined.
"We're clicking at the right time," said Taylor, Seabury's first-year coach. "It's good to see us playing this well when we need to be. You have to be playing your best when you go into regionals."
The Seahawks had played their previous seven games on the road, but the Seahawks will play four of their final five games at home after Thursday's makeup game at McLouth.
Copyright 2018 The Lawrence Journal-World. All rights reserved. This material may not be published, broadcast, rewritten or redistributed. We strive to uphold our values for every story published.