Pam Grout wants to unlock the chains of traditional religion and open up doors to new spirituality.
She's grown tired of the negative preaching of religious fundamentalists and wants to shift the focus to a God - or maybe a universal energy - that has your best interest at heart.
She's written a new book to expound on her beliefs.
"All I want to do is spread love," Grout says. "I don't want to create any fights with anybody. But it does sort of say some of the things we were taught about God are perhaps incorrect, or at least this book would encourage you to examine some of our beliefs about God."
Grout, a Lawrence resident for six years, is author of "God Doesn't Have Bad Hair Days," which is due out in January. She's written more than 10 books, including "Living Big: Embrace Your Passion," "Leap Into an Extraordinary Life" and the more recent "You Know You're in Kansas When ... ."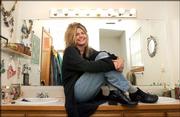 She is the daughter of a Methodist minister in Kansas, has a journalism degree from Kansas State University and has written for several newspapers. She currently is a full-time freelancer whose regular credits include People magazine.
Sometimes she calls that energy God. Sometimes she calls it Cosmo K, after Cosmo Kramer, a character on the TV show "Seinfeld." Or "the Dude," a reference to the movie "The Big Lebowski." She says she uses the different names because the term "God" carries baggage for some people.
The experiments range from spending 48 hours looking for signs God exists to carrying a big stuffed animal around for 48 hours to prove that people, in general, aren't the grouches we assume them to be.
"I've used these principles in my life a lot," Grout says. "What it is hoping for is a paradigm shift. Basically, what a lot of physicists are starting to say now, or starting to admit, is our consciousness or our thoughts actually influence our environment. ... You have a lot more control over your life than some people like to think."
The overriding principle, she says, is that God has your best interest at heart.
"Albert Einstein said the most important decision each of us can make is 'Is the world a friendly place, or not?' Once you make that decision, how you see the world follows that. To me, the essential thing is what we decide to focus on in life."
By focusing on the environment around us, Grout says, we can have new insights. We only acknowledge a small amount of the information we're exposed to in a day, she says.
"Kind of what it says is God is within all of us - that all of us have that powerful energy, and we direct it by how we focus our consciousness," Grout says. "It's definitely positive. The new paradigm is not that old God that sits up in heaven and has a little book and checks off the things you do wrong. That's not the God I'm talking about at all."
Grout, 49, has been involved in "new thought" churches for more than a decade. She currently attends Unity Church of Lawrence, 900 Madeline Lane. Unity churches believe Jesus was more of a brother than a deity. They use his teachings alongside the teachings of leaders of other religions.
"This book is filled with Unity concepts and ideas," says the Rev. Darlene Strickland, pastor at Unity Church. "Anyone who has been exposed to Unity or other new thought spirituality will find a strong resonance with the book."
Strickland says she thinks readers will find plenty of practical advice in "Hair Days."
"In many ways, this book is a personal invitation to explore and examine one's spiritual beliefs," Strickland says. "For many people, it will offer a new concept of God, as well as new ways of understanding God and working with the laws of the universe to create a better life."
Grout says she's not trying to introduce ideas that are in conflict or agreement with any particular church. Instead, she thinks her book could appeal to people of any religion who are seeking spiritual renewal.
"I'm not trying to create a new religion at all," Grout says. "That's the last thing I would want to do. Basically, it's for people who want to have more peace in their life. It's a way to look at life differently, to have more peace and joy. I believe that's how it's supposed to be."
Copyright 2018 The Lawrence Journal-World. All rights reserved. This material may not be published, broadcast, rewritten or redistributed. We strive to uphold our values for every story published.