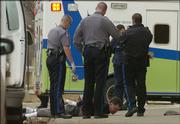 Robert "Simon" Gilmore, a homeless man whose often seen sleeping downtown in front of Weaver's department store or the Replay Lounge, was arrested early this afternoon at the intersection of New Hampshire and Seventh streets.
"He was in the middle of the street," said Lawrence police spokesman Sgt. Dan Ward. "We got a call from someone couldn't get around him because of the oncoming traffic. The next car couldn't get around him either."
When police arrived, Ward said, Gilmore "actively and passively resisted" the officers. He was later charged with obstruction, disorderly conduct, and battery. He was taken to Douglas County Jail where he remains.
"The last thing we want to do is arrest someone in his situation, but the officers have no choice," Ward said.
Gilmore, 48, is visually impaired. He has been hospitalized several times for mental illness.
Copyright 2018 The Lawrence Journal-World. All rights reserved. This material may not be published, broadcast, rewritten or redistributed. We strive to uphold our values for every story published.