Practice three times a week for two hours, long car trips to weekend tournaments and being dropped to the mats in practice and in competition describe what it is like to be a part of the Sunflower Wrestling Club.
But for the members of the club, which is in its fourth season, the dedication they have to their sport makes all the hard work worthwhile. One day many of the members hope to compete in high school and college.
"It takes a special kid to get throttled at a meet and bounce back, because this is an individual sport with no one else to blame but yourself," coach Ron Bailey.
Bailey and head coach Randy Streeter coach the group of young men, of ages 6 to 14.
Each week on Monday, Wednesday and Thursday evenings the boys meet at Free State High School to practice. In practice each boy is paired with another boy to wrestle against.
Bailey said wrestling is one of the most difficult sports for kids to participate in. There is little room for team support; each individual is relied upon to perform during meets and excel in their age group.
Wrestler Josh Hanson said he feels the pressure because it is up to him to perform, but he wrestles with Sunflower because they know technique and are able to prepare him to compete.
"Sunflower pushes harder than other clubs and has other good kids to wrestle against," wrestler Reece Conklin.
Last season Reece Conklin won the 2004-05 W.O.W. All-Star Tournament, took runner-up at Tulsa Nationals, and was named the Cliff Keen Nationals Champion, Reno Worlds Champion and Mid-America Nationals Champion.
Hunter Haralson experienced success as Mid-America Nationals Champion.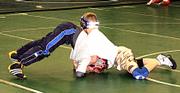 Traveling to tournaments on weekends makes life difficult, not only for the kids but for the parents as well.
"It is a lot of practice and time traveling, but it is worth it because the kids enjoy themselves," Lee Hanson, Josh Hanson's mother, said. "It is fun to see the positive relationships they form even with their opponents."
Wrestling is an individual sport, but Sunflower still tries to provide an opportunity for its members to feel like they are a part of a team. When they travel to meets they stay at the same hotel, and each member encourages each other.
Practices provide an opportunity for Bailey and Streeter to work on fundamentals, and as the wrestlers get older they can teach the details.
With the season being so long, Bailey said mid-season they like to alleviate some tension by changing the tournament schedule so that the players don't experience burnout.
"It gets pretty tiring, but it is okay because you can be with your friends," Conklin said.
Sunflower does not allow weight shaving and any unhealthy practices of making weight.
"We might have to bump a wrestler up to a new weight group before I would let them worry about dropping weight," Bailey said.
Bailey said he coaches wrestling because he likes to watch the kids learn.
"These kids aren't only good wrestlers, but they have good work ethic," Bailey said.
The Sunflower wrestlers' good work ethic is what the team hopes will add to their competitive edge at every meet during the 2006 season.
This season Conklin and Hanson said they both have the goal on winning on their mind, and if they keep focused they will be able to follow up a successful 2005 season with a successful 2006 season.
Copyright 2018 The Lawrence Journal-World. All rights reserved. This material may not be published, broadcast, rewritten or redistributed. We strive to uphold our values for every story published.