Several days have passed, and euphoria has given way to historical reality.
Kansas University alumni and friends all over the country basked in the feel-good glow of Friday's 42-13 football bowl victory over Houston, and now they have to face the facts.
Fact No. 1 - Kansas never has earned a postseason bid in consecutive years.
Fact No. 2 - Kansas has posted losing records in six of the last seven seasons following bowl appearances.
Fact No. 3 - Kansas will have numerous personnel question marks in 2006, notably on defense and at quarterback.
The closest KU ever has come to making back-to-back bowl trips was in the mid-1970s. In 1975, with junior Nolan Cromwell at the controls of a prolific wishbone offense, the Jayhawks were one of the surprise teams in the country, fashioning a 7-4 regular-season record and earning a berth in the Sun Bowl.
With Cromwell returning in '76, optimism was higher than holes in the ozone layer. Many projected the Jayhawks as a Big Eight title contender. Then when KU won its first four games against a solid nonconference slate, it wasn't a matter of whether KU would go to a bowl, it was which one.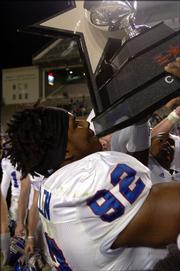 Oops. Two weeks later, Cromwell limped off the field with a knee injury that ended his season and, for all practical purposes, the Jayhawks' season as well. KU won only two more games, finishing with a 6-5 record - good enough for a bowl bid now, but not then.
Still, that 6-5 mark is the Jayhawks' only post-bowl winning season since the early '60s. Here are the six bad backlash seasons:
¢ In 1969, the year after the Jayhawks shared the Big Eight title and went to the Orange Bowl, they flopped to 1-9.
¢ In 1974, the year after quarterback David Jaynes sparked a Liberty Bowl bid, KU finished 4-7.
¢ In 1982, the season following a Hall of Fame Bowl berth, the Jayhawks struggled to a 2-7-2 record.
¢ In 1993, in the wake of an Aloha Bowl junket, Kansas wound up 5-7.
¢ In 1996, after KU had posted a 10-2 record that included a 51-30 romp over UCLA in the Aloha Bowl, the Jayhawks slumped to 4-7.
¢ Finally, in 2004, after senior quarterback Bill Whittemore had fueled an invitation to the Tangerine Bowl, the Jayhawks skidded to a 4-7 record.
Good things obviously don't happen to Kansas University football programs following bowl seasons, and yet anyone who follows sports knows streaks are like records. They're made to be broken.
While the negatives clearly outweigh the positives for Kansas football in 2006, two factors could still work in the Jayhawks' favor. One is incentive. Coach Mark Mangino can challenge his players to become the first KU team ever to play in back-to-back bowl games. The other plus is the '06 schedule.
Next fall's nonconference slate of Toledo, South Florida and Northwestern (La.) State, plus a foe to be named later, will be tougher than usual, but not appreciably.
However, the Big 12 portion of the schedule will do a flip-flop. Kansas loses Texas, Texas Tech and Oklahoma - the top three teams in this fall's Big 12 South standings - and regains Texas A&M;, Baylor and Oklahoma State.
History will be against the Jayhawks next fall, but sometimes you can throw history books you know where.
Copyright 2018 The Lawrence Journal-World. All rights reserved. This material may not be published, broadcast, rewritten or redistributed. We strive to uphold our values for every story published.