Memphis, Tenn. — Adam Morrison impressed the fourth-ranked Memphis Tigers with his ability to score.
That didn't stop them from shutting him down when it mattered most.
Darius Washington scored 22 points and had 10 assists, and the Tigers held the nation's leading scorer without a point in the final 9:31 in holding off No. 8 Gonzaga, 83-72, Tuesday night.
Memphis coach John Calipari said Morrison knew he could score with Tigers senior forward Rodney Carney guarding him in the post. So he asked freshman Shawne Williams to guard Morrison despite having three fouls.
"I said, 'Look, man, if we don't stop him right now, we are not winning this game because he will go nuts'" Calipari said.
Williams also had help from Chris Douglas-Roberts, Robert Dozier and Antonio Anderson in slowing down Morrison. It worked - the preseason All-American didn't score in the game's final 91â2 minutes.
Morrison said the Tigers collapsed on him and denied him good looks at the basket. He also had his left thumb wrapped with tape that wound around his wrist after jamming his finger in last week's victory over Saint Louis, but he refused to use that as an excuse.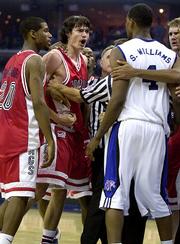 "I missed too many eight-footers in the lane, but part of it was Memphis' defense," Morrison said.
With the victory, Memphis (10-1) continued its best start since 1985-86, winning its seventh straight in the first game between a pair of Top 10 teams involving the Tigers in Memphis since 1985-86.
The Tigers are the only nationally ranked team in the revamped Conference USA, a distinction Gonzaga (9-3) holds in the West Coast Conference.
Memphis will play host to No. 15-ranked Texas on Monday.
Memphis snapped Gonzaga's five-game winning streak even though Morrison finished with 34 points, including a perfect 12-of-12 performance at the free-throw line.
It was the Bulldogs' worst loss since Nov. 27, 2004, when they fell, 89-72, at Illinois.
Carney had 17 points for Memphis, and Williams added 14 points and 11 rebounds.
The Tigers outshot Gonzaga 31-of-63 (49.2 percent) to 22-of-64 (34.4 percent).
"They've got a lot of answers, a lot of athleticism, a lot of skill and they can hurt you in so many ways," Few said of the Tigers. "We battled hard. We just didn't quite battle for a full 40."
No. 13 Boston College 81, Duquesne 69
Pittsburgh - Craig Smith scored 21 points and held off a late Duquesne comeback bid by scoring on three consecutive Boston College possessions, leading the Eagles, who were aided by backup forward Akida McLain's 17 points.
Sean Marshall added 13 points, and Jared Dudley and reserve Tyrese Rice had 10 each to help the Eagles (9-2) win their third in a row, but it was McLain who got them going during a 16-4 run midway through the second half that built their lead to 15 points at 64-49.
The Eagles' poor free-throw shooting - 11 of 25 - prevented them from pulling away until late despite their obvious advantage in size and talent.
No. 20 Nevada 56, Norfolk St. 46
Reno, Nev. - Marcelus Kemp scored eight of his game-high 15 points during a key stretch in the second half, and Nick Fazekas added 14 to help Nevada overcome a cold shooting night.
Mo Charlo and Kyle Shiloh each had seven rebounds and Ramon Sessions seven assists for the Wolf Pack (9-1), who shot 37.5 percent from the field.
Tynell Dunkley had a team-high nine points for Norfolk State (2-9), which made only two of its first 21 shots from the field and went without a field goal during a 14-minute stretch in the first half.
The Wolf Pack are off to their best start since 1978 and now are 33-4 at home over the last three seasons.
Copyright 2018 The Associated Press. All rights reserved. This material may not be published, broadcast, rewritten or redistributed. We strive to uphold our values for every story published.