Ottawa — Monty Fritts has been bursting with pride.
"I made a U.S. Marine cry," he says.
Fritts' weapon of choice? Salsa.
It happened this fall at the Walnut Valley Bluegrass Festival in Winfield. The Marine asked to try the hottest sauce Fritts had: XXX HOT.
It's made with pure capsaicin, the chemical that gives chili peppers their heat and makes your eyes water when you're exposed to pepper spray.
Fritts, 46, has a reputation for burning people's tongues.
But his company, myhotsauces.com, also is generating a buzz in the world of gourmet salsas. He's winning international awards for the spicy concoctions he's been making since 1999.
Fiery flavors
Fritts' entry into the hot sauce and salsa industry came at the request of a friend. The friend wanted a hot sauce to put on his eggs and turned to Fritts, who once owned Monty's Roasted Chicken in Ottawa.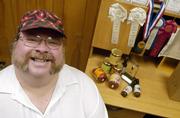 Eventually, the Ottawa resident found a recipe he liked and started giving the sauce to friends. Eventually, he got requests for other flavors.
Now, he has four hot sauces - the liquid kind like Tabasco or Louisiana - and eight salsas.
The hot sauces include Smoke and Fire and Fire Lizard. In addition to the XXX HOT, the salsas include Chipotle, Roasted Garlic, Cranberry and Black Beans & Corn.
Fritts comes up with recipes in his kitchen, using his friends as taste-testers. Then he forwards directions for the concoction to a co-packer, CaJohns Fiery Foods in Columbus, Ohio, which mass-produces it for him.
Most of the recipes start with a a base of tomato sauce, onions, vinegar, jalapenos, salt, sugar, cilantro and garlic.
"Basically, I come up with a single recipe and riff on it," Fritts says. "It's like jazz music. You get one good underlying beat and go with it, switch out this or add that."
Hot honors
The world of gourmet sauces - a niche salsa-producers say is growing - has taken notice of Fritts' efforts.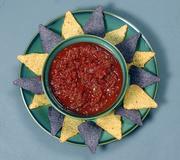 He's won 34 international awards for his sauces. Most recently, he landed seven awards at the Fiery Food Challenge, a contest sponsored by Chile Pepper magazine.
The honors included first places in the bean, chipotle, hot and mild categories.
"I'm completely addicted to his black bean and corn and chipotle salsa," says Ron Levi, president of Innuendo Enterprises, a California company that produces competing hot sauces. "You open a jar, and you can skip dinner because you'll eat the whole thing.
"It's really hearty - not watery. It doesn't run off the chips. It almost breaks the chips."
For Tom Wilson, the flavor is what separates Fritts' sauces from the widely available, mass-produced varieties. Wilson is a friend of Fritts' who advises him in his flavor decisions.
He likes the roasted garlic salsa for chips but douses buffalo wings with any of the four hot sauces.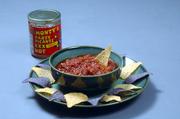 "There's a variety," Wilson says. "There's more flavor in the ones like the black bean and roasted garlic. There's a tremendous amount of heat if you go to the XXX."
'Molten lava'
Fritts says his intent of getting into the salsa and hot-sauce business wasn't to blow people's heads off.
But with as much care as he puts into the flavor of his 12 sauces, the XXX HOT salsa is his best-seller, probably for the novelty-heat factor.
"It's by the far the hottest thing I've ever put in my mouth," Levi says. "When I'm selling it at trade shows, I say it's a one-year supply of salsa in a jar - it's that hot. It is literally like molten lava on your tongue. One bite will keep you going for 20 minutes, and it just gets hotter and hotter."
Fritts says when he has a booth at festivals, taste-testing the salsa almost becomes a practical joke.
"They start crying," he says, "and then they come up with five friends who they want to hurt."
Big hopes
So far, Fritts has been hitting the road, hawking his product to stores in Kansas.
It's available at several locations throughout the state, including Kansas Station in Yoder, Wyldewood Cellars Winery in Mulvane and the Country Mart in Ottawa.
"I think it's great, because we push as many local products and Kansas-made products as we can," says Gary Jones, who owns the Country Mart. "He's been getting awards and getting recognition."
Fritts sells the majority of his product on the Internet - where jars go for $5.95 apiece - and at festivals.
The salsa business is one of several part-time jobs for him. He also is a pyrotechnician, produces PBS videos and, until recently, operated an Internet service provider and Web design company.
Fritts would like for the business to step up a notch. He's hoping to get enough recognition to land a major food distributor - and end up in national grocery store chains.
"I'm hoping someone somewhere will take notice," he says. "I'm still winning awards. That's got to mean something."
- Staff writer Terry Rombeck can be reached at 832-7145.
Copyright 2017 The Lawrence Journal-World. All rights reserved. This material may not be published, broadcast, rewritten or redistributed. We strive to uphold our values for every story published.