"Walk into one of the gyms on a Saturday in Lawrence and watch a child make their first basket of their young basketball career," Parks and Recreation Youth Sports Director Lee Ice said. "It will put a smile on your face."
If you have been at the East Lawrence Center, Community Building, Schwegler
Elementary, Langston Hughes Elementary or Holcom Park Center you have witnessed some of the best little league athletics in Lawrence.
Every Saturday for the past six weeks, kids from kindergarten through sixth-grade participated in the Parks and Recreation basketball league games. The skill levels were different and the level of competition varied, but each kid learned something from the time they spent playing on the team.
"I believe there are several things kids benefit from organized athletics," Ice said. "They learn discipline. They learn how to work with other kids, how to take instruction from coaches, how to compete, how to win and how to lose."
For Lee Ice, the recreational basketball season ran smoothly.
"The biggest problem I had all year was two officials didn't show up one weekend," Ice said. "If that's the worst thing to happen during the season, I deem the season a total success."
This season more than 900 kids participated in the recreation program, with 50 games happening at the five venues around Lawrence each weekend.
"I think the kids and everyone involved had a good time," Ice said. "All 900-plus received trophies for participating in the program."
Parks and Recreation basketball stresses having fun while teaching the fundamentals of the game. Scores are not kept, and no one fouls out of the games.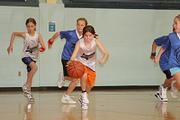 Although the season only includes eight weeks of practice and six games, the kids have time to learn the fundamentals of playing basketball, get physical activity and make some new friends.
"I believe the most important thing they get out of any of the programs we offer through the Parks and Recreation is that they have fun," Lee said. "What they learn is teamwork, discipline, sportsmanship and dealing with adversity."
Second-grade Firehawks head coach Andy Liba said he has seen the kids improve through the development of their teamwork.
"Most of these kids on my team anyway are in the same class together at Deerfield, so they are very comfortable with each other," Liba said. "Their skills improve somewhat on an individual basis, but their improvement comes mostly as a team when they get comfortable with each other."
First-grade Tigers head coach John McDermott also saw an improvement in his team's ability to work together and pass the ball to create scoring opportunities.
"I think the best improvement was that they really understand the game more and we really tried to work on passing," McDermott said. "The kids really came together when trying to pass, and they shot when they had an open look but they didn't force anything. They learned to kind of give the ball around and play as a team."
At the younger levels this season might have been the first time the kids had an opportunity to play an organized sport. Kindergarten Team 1 head coach Michael Homeyman said he had trouble focusing his kids at the beginning of the year, getting their attention and having them listen to what the coaches had to say. But as the season ends, Homeyman has seen improvement in his team.
"Now they listen better, and they actually do what you ask them to do, and just overall the way they play," Homeyman said. "Everybody has the same goal in mind instead of everybody trying to go every different way."
Ice knows that team sports such as basketball help to foster healthy competition and the idea of teamwork, which can translate into many areas of a child's life.
To have a successful season, Ice relies on volunteer coaches to coach the league's teams. The coaches carry the responsibility of teaching the kids the fundamentals of the game, and with such a short season and the difficulty of finding a facility to accommodate practice the coaches are relied on heavily to make the experience worthwhile.
"Games are a test for the one hour of weekly practice time, to use passing and rebounding skills taught in practice," Ice said.
As for the volunteer coaches, Ice hopes they enjoyed their experience just as much as the kids enjoy playing and will want to coach again next year, hopefully just like the kids will want play again next year.
Parks and Recreation basketball provides a different playing experience than other local leagues, stressing the enjoyment of the game and actively demonstrating good sportsmanship in all aspects of the game.
"Coaches coach, players play, officials officiate and parents spectate," Ice said. "When anyone crosses the line and tries to do someone else's job, that's normally when we have problems. It sounds simple, but it only takes one person to cross the line then you end up with problems. I have been very fortunate over the 15 years I have been with the department that the people involved have bought into our philosophy and understand that competition is good - but it is not life or death."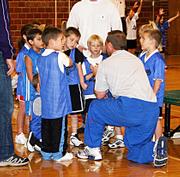 Ice hopes that through helpful referees, parents who support their kids, and coaches who help teach the kids the game, a good example is set and they are able to learn the winning isn't everything and losing can be a learning situation.
Recreation basketball will not resume in the second half of the winter season. Parks and Recreation offers indoor soccer program for kindergarteners through sixth-grade.
"Unfortunately we do not have enough gym space to offer both indoor soccer and a second session of youth basketball," Ice said. "I would love to, and it would probably fill up."
The Lawrence area youth will have to wait until next season to playing an organized game of basketball, but for 2005 Ice looks at the whole season as a success.
Copyright 2018 The Lawrence Journal-World. All rights reserved. This material may not be published, broadcast, rewritten or redistributed. We strive to uphold our values for every story published.