Baghdad, Iraq — The Shiite religious bloc leading Iraq's parliamentary elections held talks Tuesday with Kurdish leaders about who should get the top 12 government jobs, as thousands of Sunni Arabs and secular Shiites protested what they say was a tainted vote.
Meanwhile, workers in the Shiite holy city of Karbala uncovered remains believed to be part of a mass grave dating to a 1991 uprising against Saddam Hussein.
The remains - discovered Monday - were sent for testing Tuesday in an effort to identify the bodies, said Rahman Mashawy, a Karbala police spokesman. He did not say how many bodies were found, and the police claim could not be independently verified.
Human rights organizations estimate that more than 300,000 people, mainly Kurds and Shiite Muslims, were killed and buried in mass graves during Saddam's reign, which ended when U.S.-led forces toppled his regime in 2003. Saddam and seven co-defendants are now on trial for the deaths of more than 140 Shiites after a 1982 attempt on Saddam's life in the town of Dujail, north of Baghdad.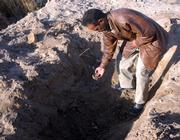 Tuesday's talks between the majority Shiites and the Kurds were seen as part of an effort to force the main Sunni Arab organizations to come to the bargaining table. All groups have begun jockeying, and the protests are widely considered to be part of an attempt by Sunni Arabs to maximize their negotiating position.
The discussions come at a critical time for Iraq, with the United States placing high hopes on forming a broad-based coalition government that will provide the fledgling democracy with the stability and security it needs to allow American troops to begin returning home.
Sunni Arabs formed the backbone of Saddam's government, and the Bush administration hopes to pull them away from the insurgency that has ravaged the country with daily bloodshed.
Meanwhile, the American military said two U.S. pilots died in a helicopter accident in western Baghdad on Monday night. The accident was under investigation; the military said no hostile fire was involved. At least 2,172 members of the U.S. military have died since the beginning of the Iraq war in March 2003, according to an Associated Press count.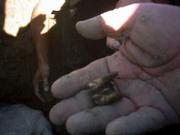 Also Tuesday, two U.S.-led coalition members completed long-planned pullouts.
A Ukrainian column of eight armored personnel carriers and 44 soldiers had left the country and arrived in Kuwait, Ukraine's defense ministry said in a statement. Ukraine had kept 867 soldiers in Iraq after partial pullouts earlier this year.
In Bulgaria, Defense Minister Veselin Bliznakov said Tuesday that his country had completed its own military pullout from Iraq.
"The last unit of 130 servicemen has been relocated at a safe place in Kuwait since last night," Bliznakov told reporters.
Copyright 2017 The Associated Press. All rights reserved. This material may not be published, broadcast, rewritten or redistributed. We strive to uphold our values for every story published.