For many U.S. workers, the holidays are a mad rush of shopping for presents, wrapping gifts, putting up Christmas lights - all while working the same schedule as any other time of the year.
But some employees have a lighter load, working for companies that go out of their way to make the season as stress-free as possible:
¢ Analytical Graphics, an Exton, Pa.-based software company in the aerospace sector, hires college students to come to the firm's headquarters to wrap gifts that workers bring in - at no cost to employees.
¢ Meridian Health, a health-care provider in New Jersey, offers a concierge service to its employees, so that finding the perfect vacation itinerary or that elusive iPod accessory is just one phone call away.
¢ PricewaterhouseCoopers, the accounting firm, shuts down its U.S. offices from Christmas Eve until after New Year's Day, with a firm directive to some 24,000 employees to not check in.
"We have a very demanding profession. There's a need to be accurate and if people keep running ragged, there's this sense of burnout," said Jennifer Allyn, a director in PricewaterhouseCooper's office of diversity, which focuses on employee retention. "We know our people need to rest and recover."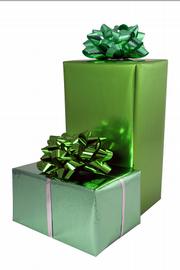 A chain of grocery stores can't close for a week, and many are open 24 hours a day every day, including holidays. But Wegmans Food Markets, a grocery chain with stores in New York, Pennsylvania, New Jersey and other states, will close for a portion of the upcoming holiday weekend.
Usually, all Wegmans stores are open seven days a week, and some are open 24 hours a day, but all the firm's stores closed at 6 p.m. on Christmas Eve, and didn't reopen until early in the morning Dec. 26, the day after Christmas, said Jo Natale, a company spokeswoman.
"Employees want to spend the holiday with their family," Natale said. "We do have to balance the needs of the customer with the needs of the employee. We go out of our way to let customers know this well in advance so customers can plan appropriately, but we know how important this time is to our employees."
At Analytical Graphics, employees can have the gifts they purchase shipped to work, where temporary workers will wrap the gifts, on the company's dime.
"We allow people to receive shipments of their gifts here at work," said Lisa Velte, director of human resources at the company. "You can keep them here, and the kids won't find them," she said. Then, "I'll take my stuff home and it'll already be wrapped and the kids will never have seen it."
And, while the two business days before New Year's Eve aren't company holidays, they tend to be more about fun than work: "We invite all the families and the kids in, and they spend a half a day building model rockets," Velte said, complete with miniature rocket engines.
"The next day they come in and we have lunch and we shoot them off. It's kind of like our New Year's celebration," she said. Why rockets? "We're in the aerospace industry. We're all rocket scientists," she said. The company provides free lunch to its employees every work day, she noted.
Meridian Health hired Circles to provide a concierge service to Meridian employees. Circles is a Boston-based company that provides a variety of services to companies aimed at recognizing and rewarding customers and employees.
"We're a 24/7 operation," said Wendy Edelson, director of employee and labor relations at Meridian Health. "We have many employees that work off-shift. They leave their families, and we're always trying to look at new and better ways to enhance their work and family life. We just thought this would be something so great to be able to offer them, so if they're in an off-shift or sleeping during the day and they need something done, a product search, reservations, help with a party, that they can make one phone call and it's like one-stop shopping."
Recently, she said, an employee used the concierge service to find a particular iPod. "She was having great difficulty. She made the phone call and the response she sent to Circles was 'thank you for saving my Christmas,'" Edelson said.
Some requests are more unusual, said Janet Kraus, chief executive of Circles. "We've had people literally last minute say, 'Oh my gosh, can someone please come and decorate my tree?' Or, 'put my lights on the house.' Circles employees don't put lights up on the house, but we'll get someone to put lights up on the house." About 40 to 50 companies, employing about 250,000 workers in total, use Circles' concierge services, Kraus said.
PricewaterhouseCoopers first offered its extended end-of-year holiday in 2003, and employee reaction was so positive the firm decided to revisit the option each year.
Employees said "it really was truly an amazing vacation. You didn't have to worry your boss was working. It was everybody, from the office assistants to the partners," Allyn said.
Copyright 2018 The Lawrence Journal-World. All rights reserved. This material may not be published, broadcast, rewritten or redistributed. We strive to uphold our values for every story published.