SAN ANTONIO — Tony Parker scored 27 points, Manu Ginobili sparked the decisive run in his return from an injury, and the San Antonio Spurs pulled away to beat the Indiana Pacers, 99-86, Tuesday night.
The Pacers led 60-57 midway through the third quarter after a layup by Jamaal Tinsley, before the Spurs took control with a 16-3 spurt.
Ginobili, who missed eight games with a sprained right foot, made a free throw and a layup to start the run. The Spurs held Indiana without a basket for more than 4 1â2 minutes beginning late in the third.
Duncan added 26 points for the Spurs. No other Spurs were in double figures. Ginobili had nine points in 15 minutes.
O'Neal led Indiana with 26 points, and Tinsley scored 20.
Nets 96, Cavaliers 91
East Rutherford, N.J. - Richard Jefferson scored 28 points in another outstanding shooting performance, and New Jersey extended its winning streak to seven.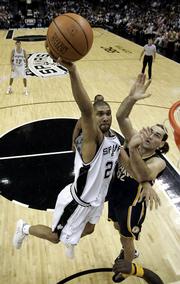 Jefferson was 9-of-11 from the field, a night after going 8-for-8 in the Nets' 109-101 victory at New York.
Vince Carter, the Eastern Conference player of the week, was in foul trouble and played only 30 minutes, scoring 21 points. Jason Kidd had 14 points, nine rebounds and nine assists.
LeBron James had 31 points, 10 rebounds and eight assists, but Cleveland had its six-game winning streak snapped.
Pistons 113, Raptors 106
Auburn Hills, Mich. - Richard Hamilton scored 24, Chauncey Billups had 21 points and 13 assists, and Detroit beat Toronto for its eighth straight victory.
The Pistons improved to an NBA-best 23-3, their best 26-game record in franchise history. They scored a season-high 63 points in the first half, avoiding a letdown after playing San Antonio and before playing host to Miami on Thursday.
Chris Bosh scored a career-high 37 points for the Raptors.
Heat 109, Bucks 98
Miami - Dwyane Wade scored 35 points, Shaquille O'Neal added 23, and Miami beat Milwaukee.
Jason Williams had 18 points, including nine during a 19-9 run in the opening six minutes of the second half. The Heat won for the sixth time in eight games since Pat Riley returned as coach on Dec. 12.
Reserve Maurice Williams came off the bench to score 24 points as the Bucks finished 0-2 in a back-to-back set in Florida.
Bobcats 93, Hawks 90
Atlanta - Primoz Brezec made the go-ahead basket in the final seconds, and Brevin Knight scored 22 points as Charlotte beat Atlanta.
Reserves Bernard Robinson and Keith Bogans each scored 13 points for Charlotte, which snapped Atlanta's four-game winning streak at home.
Al Harrington led the Hawks with 19 points and seven assists.
Jazz 82, Rockets 74
Houston - Mehmet Okur had 20 points, 17 rebounds and a decisive three-pointer, and Utah took advantage of Tracy McGrady's sudden absence to beat Houston.
McGrady scored 21 points in the first half, then left the arena when he learned his fiancee was going into labor at a local hospital.
Houston's offense crumbled without McGrady - the Rockets went 12-of-42 (29 percent) and mustered an anemic 33 points in the second half.
76ers 108, Nuggets 106
Denver - Allen Iverson scored 36 points, including the game-winner, and Philadelphia overcame Carmelo Anthony's career-high 45 to beat Denver.
Chris Webber added 32 points and 15 rebounds, none bigger than the one in the final minute that set up Iverson's winning shot with 4.2 seconds remaining.
Earl Watson's last-second three-pointer was short, bouncing off the front of the rim at the buzzer.
Kings 110, Clippers 93
Los Angeles - Mike Bibby scored 17 of his season-high 38 points in the third quarter and added a season-best 10 assists as Sacramento snapped a five-game losing streak.
The injury-depleted Kings beat the Clippers for the 10th straight time and 15th time in 16 meetings.
Elton Brand scored 25 points for the Clippers, who have lost six of eight following a four-game winning streak.
Copyright 2018 The Associated Press. All rights reserved. This material may not be published, broadcast, rewritten or redistributed. We strive to uphold our values for every story published.