New Orleans — After Hurricane Katrina destroyed about one-third of the Port of New Orleans, the port's chief executive turned an offhand remark into a challenge to restart a vital part of the city's storm-ravaged economy.
"It all came out as kind of a joke when someone told me, 'You won't have a ship in this port for six months,"' port chief Gary LaGrange recalled. "My response, with a lot of bravado, was we'll be back at 70 percent within six months."
So far, so good.
The port, a major entry point for imported steel, natural rubber and coffee, received its first post-storm ship Sept. 12, two weeks after Katrina. Just over three months later, the port is running at about half capacity, LaGrange said in an interview. Before Katrina hit Aug. 29, it was getting 36 to 40 ship calls a week. Now, the count is 18 to 20.
By March or April, the goal is to hit 70 percent of pre-Katrina calls.
But many hurdles remain: finding enough truck drivers to haul and deliver containerized cargo, and enough longshoremen to handle bulk loads; getting cruise ships that handled 700,000 passengers annually back on schedule; and keeping finances in line with diminished business.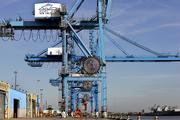 In 2003, New Orleans ranked fifth among U.S. ports in tons of cargo handled, and 12th in total foreign trade, according to the latest figures available from the American Association of Port Authorities.
LaGrange estimated the port sustained $100 million in damage, while port-dependent businesses had another $280 million to $300 million in damage. The portion of the port nearest the Industrial Canal, the site of devastating flooding, was virtually wiped out.
"Thirty percent of the port is no longer in existence as we knew it Aug. 28," LaGrange said.
One of the businesses that depends on the port is Cold Storage and Warehousing Ltd., which exports frozen chickens. The company was stuck with 52 million pounds of rotting chicken after its power was knocked out by Katrina.
Port important to Midwest farmers
Damage to the port affected Kansas farmers. In November, U.S. Rep. Jerry Moran, R-Kan., said that Midwest farmers had suffered $1.7 billion in losses because - along with drought and other problems - they weren't able to move their crops efficiently in the wake of Hurricane Katrina.
"In the Midwest, grain is piled high on the ground, and prices are down due to transportation difficulties in New Orleans," Moran said at the time. "Because winter is approaching and the Mississippi will begin to freeze, unloading barges and moving grain must happen now."
"The port's success has allowed us to grow our business a lot in the last 10 years," said Mark Blanchard, the company's executive vice president. "Without the port, we wouldn't have a customer base to fill three cold-storage warehouses."
Cold Storage hopes to reopen with half its capacity early next year.
The storm also has created difficulties for port businesses because of their dependence on the Mississippi River Gulf Outlet, a 76-mile man-made channel from the Gulf of Mexico that allows ocean-going ships access to the port's Inner Harbor Navigation Canal. Most deep-draft ships can't get to the inner harbor from the Mississippi River because they can't fit through the current lock on the Industrial Canal.
Now, with the outlet blamed by some for helping to flood St. Bernard Parish during Katrina, calls are rising for its closure. If that occurs, lock improvements will have to be hastened, businesses moved to other sections of the port or goods trucked to ships along the river, LaGrange said. A source of funding for such a move has not been secured, but one possibility could be federal money now earmarked to keep the outlet dredged.
Last year, 1,904 ships loaded and unloaded cargo at the port, a series of terminals and wharfs on the Mississippi River. The port handled 10.4 million tons of general cargo and 169,304 freight containers at a site that included 22-million-square feet of cargo handling areas.
The port itself employed 330 workers before Katrina and now has a payroll of 275, after accounting for employees who don't plan to return to New Orleans and the elimination of jobs vacant before Katrina.
The port is expecting a jump in foreign steel imports following the elimination of steel tariffs, a restart of the cruise business - including the first post-storm passenger call Dec. 31 - and increased poultry exports.
Copyright 2018 The Associated Press. All rights reserved. This material may not be published, broadcast, rewritten or redistributed. We strive to uphold our values for every story published.