The transitions that the Lawrence Flames, a competitive fifth-grade girls' basketball team, have gone through have not been easy, but through their team spirit the Flames have found a way to stay together and continue to compete.
Flames head coach Doug Gaumer is in his second year leading the group of girls, but this year will be a little different. With the closing of Sport 2 Sport, the team was forced to find another league to play in during the 2005-2006 season.
"The timing of Sport 2 Sport wasn't right, which prevented us from getting into another league," Gaumer said.
Gaumer and his team didn't sign up to play in another league this year, and so will only compete in tournaments.
"I miss not having a league to play in," Gaumer said. "We will play at least one tourney a month through March."
The Flames played in one tournament so far this year in Gardner, Kan., where they won two games and lost two games.
For this team, winning is not what is important. Gaumer stresses teamwork and improvement in skill level.
"I don't tout individuals very often, but instead stress improving week in and week out and being committed are what is important to me," Gaumer said.
The team is planning on competing this year in five tournaments, with four to five games per tournament. The tournament selection is solely based on convenience, but they will have one tournament a month. The majority of the tournaments are close. One overnight is being planned for the Little Apple Tournament in Manhattan.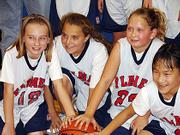 "Even if we are disadvantage during a game, we play we compete in every game regardless of circumstance," Gaumer said.
Some of the girls on the team participate in other basketball leagues, such as Hoopster and Parks and Recreation, to maintain and improve their game. Other girls rely on a weekly weekend practice to keep up their skill level and endurance.
Practice
This season the Flames won't have as big of a schedule as they experienced last year, but they look at it as a chance to concentrate on practice.
"Practices are more intense," Gaumer said. "Practice starts with stretching and warming up where they have time to socialize, but once they get going in drills - shooting, flex offense and boxing out - there is constant motion."
Flames team member Bailey Harrell said she had mixed feelings when she learned her team would not be playing in the Sport 2 Sport league but looked at it in a positive way.
"I was disappointed because all of the other teams play in leagues, but on the other hand saw it as a chance to play less games and have more time to practice," she said.
Forming the Flames
Tryouts were held to form the original team last year, and this year the Flames repeated the tryout process. Turnout wasn't what Gaumer had expected
"I was disappointed by the turnout," Gaumer said. "It would have been nice to see a larger pool of girls to add more to our team."
Gaumer also said that if Lawrence girls begin playing basketball at a young age a foundation will be formed between the girls that will make the move to junior high easier, and the teams will be more competitive with the Kansas City schools.
Gaumer encourages girls that if they are willing to work hard regardless of skill level they would be good on a tournament team.
"At this age, bodies are still developing and interests change, so you don't have to be for sure playing in college to play right now on a tournament team," Gaumer said. "The tournament team misconception is that the team members are very good basketball players, but really it is just somebody who is wanting to improve their game and put forth the effort."
Season's expectations
The girls on the Flames tournament team make it easy for coach Gaumer to coach.
"These girls are fantastic, very coachable, and athletic," Gaumer said.
In its second year, the team has increased expectations in its ability, and Gaumer is looking to compete at a higher level.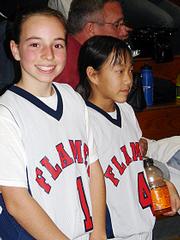 "Our expectations are higher; they should be," Gaumer said. "The higher expectations aren't on winning, but on how we play; better passes, boxing out. Winning is a secondary element, but they are awfully sad when they lose. How they play the game is what is important."
Personally, Harrell said she wants to play her hardest and do her best to help the team win.
Harrell said ball handling and the three-point shot are the team's biggest advantages.
Height is something the Flames don't have, listing eight of the 10 girls on the roster as guards.
What they don't have in height Gaumer said they make up in quickness.
The members of the Flames are unsure if they will play basketball in high school, but for now they will give coach Gaumer the 110 percent he asks for, build their love of the game and work on their basketball fundamentals.
"I don't stress things beyond week in and week out," Gaumer said. "We are trying to learn the game correctly, the building blocks of basketball and developing a love for basketball. If they work hard in off-season they will be in a position to play as much as they want to play."
The Flames value teamwork, sportsmanship and camaraderie while learning to rely on others.
"It would be nice to have more games, but yes, we don't want to get burnt out," Gaumer said. "We can continue to improve skill level and our love of the game."
Gaumer said the Flames had a fair amount of success last year.
"We started to turn things around at the end of last season, so we hope to build on that this year."
With heightened expectations, making smart passing decisions and not being selfish are going to be important to the Flames achieving success.
Even though the Flames won't have as many games on their 2005-2006 schedule, Harrell said she knows her and her teammates will be more excited for when they do compete.
Gaumer has confidence that with this well-motivated group of girls, the possibilities of having a successful season are high.
Copyright 2018 The Lawrence Journal-World. All rights reserved. This material may not be published, broadcast, rewritten or redistributed. We strive to uphold our values for every story published.