When the Rev. Kathy Neufeld Dunn signed on as a member of a statewide coalition supporting stem cell research, her thoughts were of her brother-in-law.
Two years ago, her brother-in-law, a former central Kansas and Colorado firefighter, traveled to Beijing to have experimental stem cell implant surgery. He hoped the surgery - illegal in the United States - would help him battle amyotrophic lateral sclerosis disease, better known as ALS or Lou Gehrig's Disease.
The surgery, done by a Chinese physician who was trained in the U.S. and recognized for his work in stem cell surgery, implanted fetal tissue in the brain in an effort to regrow cells and neurological tissue, Dunn said.
The surgeon, Dr. Huang Hongyum, had performed similar surgeries involving spinal injuries, but the application for ALS was new, said Dunn, interim minister of Lawrence's Peace Mennonite Church.
"Unfortunately my brother-in-law had no results," she said. "He said that even if it does nothing for him it was vitally important for him to be a part of this research so that others may benefit from it."
Dunn is now one of nearly 300 people who have become members of the Kansas Coalition for Lifesaving Cures. In addition to her brother-in-law, Dunn said she knew many others who had diseases such as multiple sclerosis and Parkinson's disease who might benefit from more stem cell research.
"I think it is just crucial to allow that sort of research to go forward without so many restrictions," she said.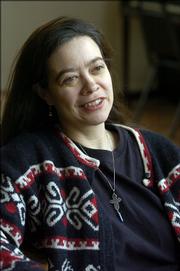 Gearing for a fight
The Kansas coalition was incorporated in August primarily to combat the passage of a bill in the Kansas Legislature that coalition members say would essentially ban all stem cell research, including research now legal under federal law and make it a felony in Kansas. The coalition also thinks that the bill could be interpreted as making it illegal for someone to seek stem cell treatments outside the state. House bill 2355 was introduced during last year's session by Rep. Mary Pilcher Cook, R-Shawnee. Last year the bill never got out of committee to face a floor debate.
The coalition does not support human cloning.
Lori Hutfles is the coalition's executive director. She works out of a downtown Lawrence office suite.
Hutfles works with a steering committee in guiding the coalition's efforts. She declined to identify who is on the committee.
"There's a group of people that have been aware of this issue since it was introduced last year," Hutfles said. "HB2355 brought to everyone's attention that there needed to be an advocacy group for stem cell research."
The coalition's Web site, www.KansasCures.com, lists its "notable members," as well as business and medical organizations. One organization, the Coalition for the Advancement of Medical Research, represents many more medical organizations.
The long list of "notable individuals" on the Web site includes many with Kansas University connections, including Chancellor Robert Hemenway, Barbara Atkinson, executive vice chancellor for KU's Medical Center; and David Adkins, the medical center's vice chancellor for external affairs. Other names include Kansas Board of Regents member Dick Bond; Rochelle Chronister, former secretary of the Kansas Department of Social and Rehabilitation Services; and Henry Bloch, honorary chairman of H&R; Block Inc.
Grassroots effort
The coalition has hired a lobbying firm, Kansas Governmental Consulting, headed by John Peterson, to represent its interests in the Legislature. In addition, Hutfles has appeared before community, business and church groups as well as at senior centers to talk about the coalition and its stance. Some appearances have been in Lawrence. It's a two-pronged approach.
"It's just grassroots coalition-building across the state," Hutfles said. "What we find is that the more people are educated about stem cell research the more positive feelings they have toward stem cell research in general."
Pilcher Cook's explanation of her bill and her stance on stem cell research is stated in detail on her Web site, www.pilchercook.com. She argues that while research on adult stem cells holds promise, there has been no "successful human study with embryonic stem cells." The extraction or harvesting of stem cells from the embryo destroys a human life, she says.
Pilcher Cook also says that embryonic stem cell research can include human cloning through somatic cell nuclear transfer, or SCNT. She says SCNT is overhyped as a possible solution to curing many diseases. Adult stem cell research is showing more promise, she says.
The Kansas coalition, however, argues that all types of stem cell research should be allowed in an effort to find cures for diseases, while at the same time agreeing that cloning humans should be banned. Unlike adult stem cells, embryonic stem cells have the potential to turn into any cell in the human body.
There are two types of embryo stem cells. One is SCNT, which uses a person's own cells and an empty, donated human egg to make embryo stem cells. The other is from in vitro fertilization at fertility clinics that would otherwise be discarded or destroyed, the coalition says.
Dunn said she understood how some people might be wary of stem cell research but thought it should go on.
"We do need to look seriously at the ethics of it," she said. "I think it would be a good idea to have ethicists working with researchers hand-in-hand so then we can do this research in appropriate ways."
Keeping HB2355 from becoming law is the only goal of the coalition, Hutfles said. If HB2355 is kept off the debate floor again this year, coalition members will decide then if it is necessary to continue their efforts.
Copyright 2017 The Lawrence Journal-World. All rights reserved. This material may not be published, broadcast, rewritten or redistributed. We strive to uphold our values for every story published.