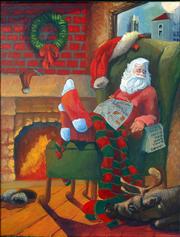 Santa had a relatively easy overnight run through Lawrence- the half-inch of rain and drizzle the area had Saturday had fallen before the evening.
Although Christmas Day started out cloudy, the low clouds are expected to gradually exit bringing sunshine this afternoon, 6News Weather reports.
Today's high will be 46 degrees with winds coming out of the northwest at 5 to 10 mph. The temperature low will be 32 degrees.
At 8:10 a.m., Lawrence's temperature was 37 degrees with a relative humidity of 85 percent.
According to the National Weather Service, there may be areas of fog around Lawrence after 9 p.m. tonight.
Winter Weather
Winter weather information
Copyright 2018 The Lawrence Journal-World. All rights reserved. This material may not be published, broadcast, rewritten or redistributed. We strive to uphold our values for every story published.